The task completion status sheet is also known as work completion sign off sheet provides a very easy method to enter a list of tasks that need to be completed or were finished for the relevant period. This relevant period can be a day, week or even a month. This sheet allows the user to keep a good track of the tasks and to prioritize all the assigned jobs so that at the end of the relevant period no important task is missed out.
Apart from that, it also gives enough space for the user to write a description of all the problems he faced while completing the work so that it can be provided to the contractor or the manager at the end. This is a very useful and common tool used in day to day activities in different kinds of businesses.
Managers usually require a time to time summary of the work done for the overview of work completion pace and also adjusting the completion deadlines, meeting the financial issues and all other such problems. A hard or tiring day can easily make the employee forget to add any progress in the sheet or to make a sheet entirely from scratch, for this purpose, experts advise to use task completion status sheet so that no matter how much busy a person is, he may manage enough time and motivation to just sign in front of the completed task.
By the help of a pre created template, an employee may find it convenient and manages to present the sheet to the contractor in due time. A typical sheet holds important information like the name of the company or the firm of both parties that is the company providing the service of work and the company whose work is being done.
The relevant period to which this task completion sheet belongs must also be mentioned. Enough space should be left out for the customer's and worker's comments, which ensures that the sheet is thoroughly read and pondered upon by the parties.
Preview and Details of Template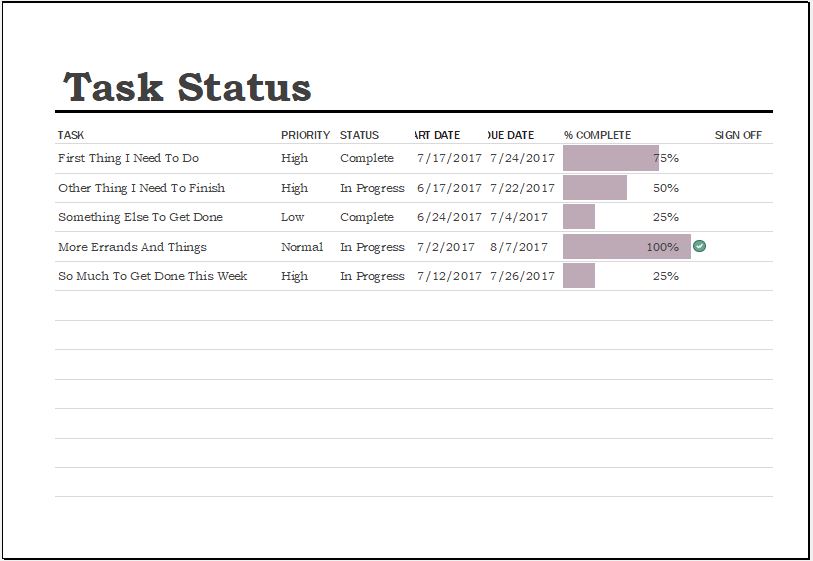 Task Completion Status Sheet Template
File: Excel (.xls) 2003+ and iPad 
Size 18 Kb | Download
License: ENERGY [Personal Use Only]