Everyone knows that operating a business and generating profits out of it can be a hard and a bit challenging task. Not all managements are capable enough to take a company to new heights in no time. The major profits are generated from the sales and a company should keep a record of the sales of a product if they really want to grow in the industry.
If a company wants to record the sales of a particular product and want to effectively display the information related to it, they should record the product sales in a record sheet from where they can use it for later use. This record could be jotted down on a simple record sheet or even a double entry based piece of paper. But most of the companies prefer to keep things simple and easy and that is why simple product sales record sheets are used by them.
This record can be a daily or monthly basis, depending upon the requirement of the company. Apart from keeping a track of the sales trend, this sheet may also help in organizing the inventory and the daily sales account with an absolute ease and convenience. As this record sheet is systematically made and the numbers, dates, and details of the product such as names are written in proper orders in the column, so it can be checked anytime and by anyone.
An organization can enter the details on a regular basis in this product sales record sheet and from it, a graph can be drawn out of the details mentioned easily. In this sheet, the number of commodities sold out from the stock and the selling price of each apart from the cost it was manufactured in is mentioned properly.
The record sheets also bear the details of the shops on which certain products are displayed for sale. Another column will be dedicated to the sales return to keep track of the items returned. And finally, a column showing the transactions received is a must in this product sales record sheet. The best way to use this complex product sales record sheet is to use a template for it.
Preview and Details of Template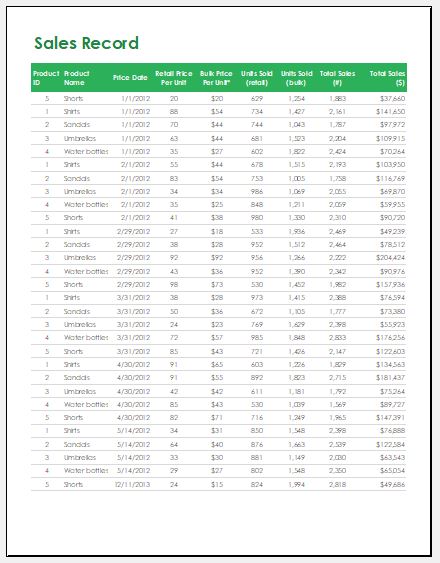 Product Sales Record Sheet Template
File: Excel (.xls) 2003+ and iPad 
Size 40 Kb | Download
License: ENERGY [Personal Use Only]