There are certain car clubs set up by organizations or people. These car clubs may have different purposes to fulfill like a few may offer automobile shows, the others allow the club members to use each other's vehicle etc. This depends on the club and the services it offers. However, not everyone can be the member of a club. For entering a car club a car must be registered with the vehicle registration department and then it should be registered in a car club.
A car before hitting the road should first be registered with the local vehicle registration department. This registration is required by law and is checked by the law regulating authorities. On the other hand, the registration of the car in a car club actually links the vehicle to its owner and the person who will drive it. Furthermore, this registration is a proof that all the mandatory taxes and fees are being paid by the owner. In other words, this form is a receipt of all the payments made in order to make it a legal property. This can also ensure that the vehicle is safe to be on the roads.
Every person who wishes to join a car club has to fill the car club registration form. This registration form will have important details to be filled. Which can be thoroughly checked by the management and then the person will be allowed to enjoy the perks of the car club. The most effective way of making the best use of a car club registration is to use a template for it.
As the registration form decides the inclusion of the person similarly, it also creates an impact on the car club on the person filling it. Therefore, the use of a template is quite common. It ensures that the best format is used and so everything is covered. If even the smallest of a detail is left out in the registration form, there may arise difficulties and problems afterward. Furthermore, a template car club registration form can prove to be time-saving and an easy option for the management.
Preview and Details of Template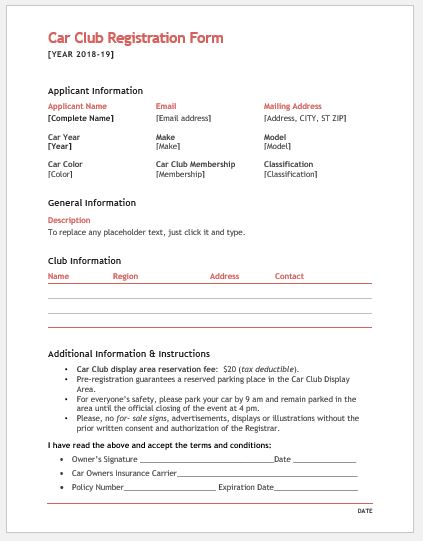 Car Club Registration Form Template
File: Word (.doc) 2003+ and iPad 
Size 40 Kb | Download
License: ENERGY [Personal Use Only]
See Also