Technically, a memorandum or usually known as a memo is an informal but official document, which is drafted by a member of an office and is addressed to one or more than one person who is also the members of the same office.
A memo may be designed to effectively communicate about a project or any other important details or to simply remind the reader(s) about the project and its purposes and the necessary accomplishments. So, there may be many reasons to write up a memo, but all of them are major to communicate with the colleagues.
A business memo or memorandum is a way of communication within a business entity. It also notes or keeps the records of all the events or the topic the memo is written about. Memos are typically used within the same business building or entity and that is why it is also known as inter memos.
The business memo especially is a standard form of written communication and is used commonly in all types' of industries like in government offices and even in bigger industries. A memo is a considered ad a formal method of communicating and so a set standard format should be followed if the writer wants to make a professional impression on the reader.
Usually, Arial or Times new roman fonts are used all over while writing a business memo and the main body of the memo should bear the introduction at the start. The body is usually presented in single-spaced paragraphs and headings, while spaces are left between the headings, paragraphs and the two paragraphs. However, it is a common practice to start the first lines of the new paragraph from the left margin or to indent it to five spaces.
It is not compulsory to send a business memo with the signatures of the writer, however, it may look professional. If someone wishes to end it without the signatures, he may use other salutations to make the memo polite and informal. As the memos are addressed to the colleagues, thus the first name of the sender is used.
Preview and Details of Template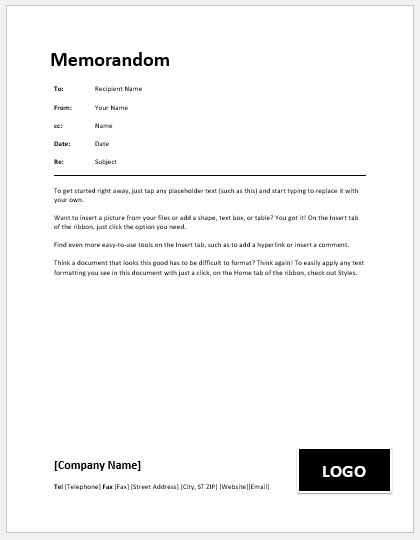 Business Memo Template
File: Word (.doc) 2003+ and iPad 
Size 160 Kb | Download
License: ENERGY [Personal Use Only]
View more Memorandum Templates