The world of real estate revolves around potential buyers, building strong connections, and closing regular deals. Real estate is a difficult field that is running on connections created by real estate agents. Agents serve as middlemen between buyer and seller and make the process of doing business easier and smoother. Following real estate, an open house is known as showing off the building in question to potential buyers so that they can have a feel of the place.
An open house is organized by agents where people physically visit the residential building that they are interested in buying and make notes regarding its build, quality of used materials, and strength of the building. They come to an idea about whether the building fits their requirements or not. If they find it suitable, they go ahead and make the purchase through an agent otherwise building remains for grasp.
A document that smooths the open house façade is a sign-in sheet that collects information about potential buyers or visitors and allows agents to build up more connections thus, closing more deals. An open house sign sheet is a simple document that does not require any digital accessory to make it useful.
Uses
Open house sign-in sheets have proven to be valuable due to the following reasons,
Information: these sign-in sheets gather information about visitors. The information may include name, profession, contact number, and email address. It makes follow-ups easier and allows agents to contact potential buyers without any hassle.
Connections: information gathered through sign-in sheets can be used to build connections with people who are interested in buying. These sheets collect necessary information for agents so that they can put it to good use.
Presence: all people attending the open house are required to mark their presence on sign-in sheets. It collects information like name or contact number so that agents can contact later on.
Potential leads: people leaving information on sign-in sheets are interested in buying which is the most important factor of real estate. Even if they are not interested in buying the open house property, agents can show them other properties depending on their requirements.
Open house brings in people who are interested in buying a property be it residential or commercial. Leaving their personal information on sign-in sheets is valuable for agents.
Layout
Open house sign-in sheets are significant documents that require a precise layout of design and color. These sheets can include the following elements,
Building information: The property or building under question should be described in detail. These details may include address, area covered, and type of construction. If it is a residential space then the total number of bedrooms, bathrooms, garage situation, laundry, backyard, and front yard should be mentioned in detail. This information facilitates spectators and allows them to know all about the property.
Connections: to build connections, sign-in sheets should encourage spectators to leave their information so that they can be contacted easily. Sheet layout has a grid of rows and columns where each column represents a field that needs to be filled by spectators. These fields may include,
Name
Profession
Email address
Residential address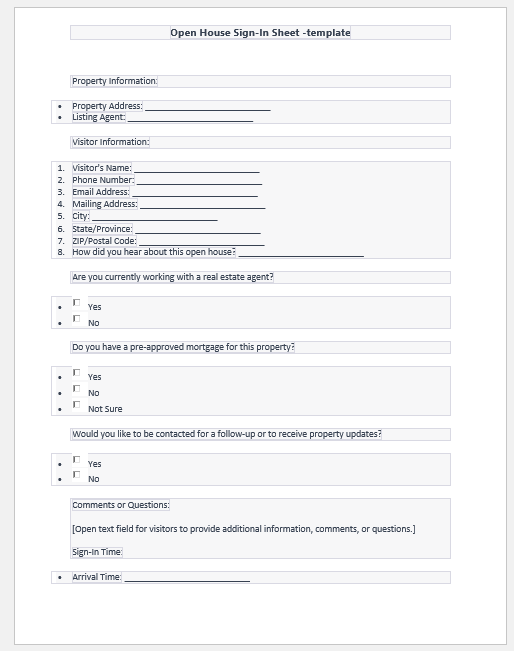 File: Word (.doc) 2007+ and iPad 
Size: 21 KB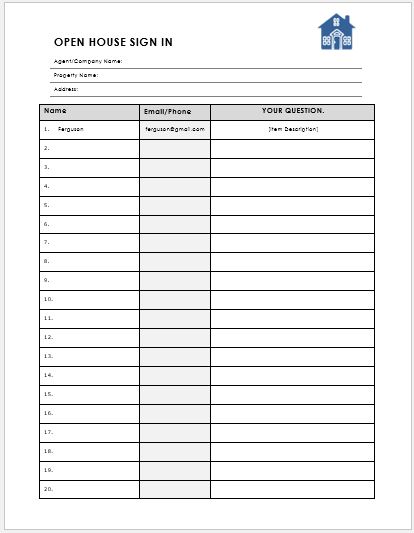 File: Word (.doc) 2007+ and iPad 
Size: 21 KB