You might be aware of the importance of tracking the sale of tickets if you have ever been given the task of selling tickets. Regardless of the type of event, you as a ticket seller are always in need to keep track of the number of people who have purchased the tickets and total income generated through it.
A ticket sales tracker is used by the person who is responsible for selling the tickets to the event that has organized. The ticket sales tracker can be a convenient tool for you if you want to aid in monitoring and organizing an event.
No matter you are going to organize a musical concert or a fundraising event, monitoring each activity is significant. With the help of this tracker, you track the total cost of the tickets being sold for an event.
The cost of the ticket is based on the audit, discounted, and child ticket. There are some built-in formulas incorporated in this tracker that will automatically display the resultant income when you will enter the details.
It saves the time of the ticket seller which would have otherwise wasted if the tracking of the sold tickets had done manually. The universal structure of the tracker makes it useful no matter the event is small or big.
Ticket sales tracker:
No doubt, selling tickets for any event is a very profitable business. However, there are many complications associated with it. The selling of tickets becomes a very stressful and tough task if not done promptly. The template for the ticket sales tracker available here can be used for this purpose.
A ticket sales tracker is designed professionally so that it can cope with a variety of events' sales tickets. The template is mostly available on various websites in the MS Excel format.
The benefit of using MS Excel is that it provides an easy way to update or retrieve the information of the event to the user. The template can be downloaded on your device and used in later.
Ticket Sales Tracker Template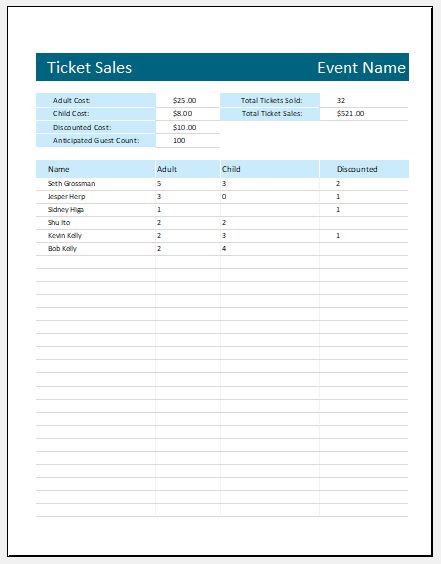 File: Excel (.xls) 2003+ and iPad Size 21 Kb |
Download
License: 
ENERGY
 [Personal Use Only]
---