It is very important for everyone working in the organization to follow the rules and regulations of the company. Whenever an employee is hired in the company, s/he is informed about the rules and regulations of the company.
It is also told that discipline in the organization is very important to be followed. However, if the employee thrills to do so unintentionally or because of careless behavior, the hiring manager and the employer has a right to write the disciplinary action letter to the employee.
The use of disciplinary action letter is a very severe action against the careless and non-serious behavior of the employee. These letters are written not only to warn the employee but sometimes it is also written to inform the employees about their suspension from the job.
Sometimes this letter is written to inform the employee that his salary is being detected to compensate the loss caused due to his carelessness or negligence on the job.
How to write the disciplinary action letter?
You should identify the problem that was caused due to indiscipline. It should be confirmed that the person who you are going to write this letter is really involved in this matter of indiscipline.
You should meet the employee in person and discuss the entire matter with him in detail. The impact of the employee's action should be clearly stated in the letter. The expectations of the company from the employee should also be explained in the letter.
The letter should clearly warn the employee about his non-serious behavior. It should also tell the employee about the consequences if he will not follow the rules of the company.
See also: warning letter to employee for not following instructions
Tips to write disciplinary action letter:
While writing this letter, it should be kept in mind that there is no grammatical or spelling mistake in the letter. Any such mistake shows the casual behavior of the employer. Avoid making this letter personal. For this, the tone of the letter should be professional. Keep the letter to the point. Refer to all the prior warnings given to the employee.
Sample Disciplinary Action Letter
Dear [Recipient]
Hope you're great. We had written you a letter previously regarding your discipline at work. However, we did not receive any response from your end. In the last directors meeting, we have been discussing your attitude at work which seems very poor and unacceptable.
In the recent meeting, it was discussed that your performance has been unsatisfactory constantly. One of the reasons for this poor performance is your lack of discipline in multiple ways. Hence, we have decided to take a disciplinary action against you rather than dismissing you.
[You can further add the disciplinary action that you have taken against the employee]
Preview and Details of Template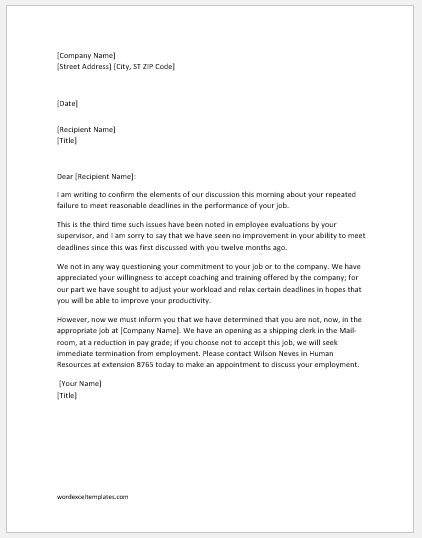 Disciplinary Action Letter for Failure to Meet Deadlines
File: Word (.docx) 2007+ and iPad 
Size 33 Kb   | Download
---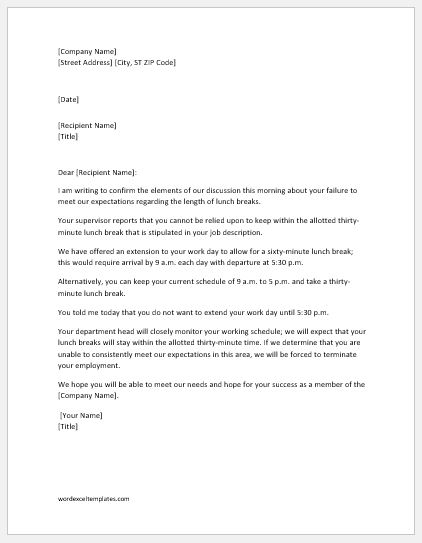 Disciplinary Action Letter for Violation of Lunch Break Rules
File: Word (.docx) 2007+ and iPad 
Size 32 Kb   | Download
---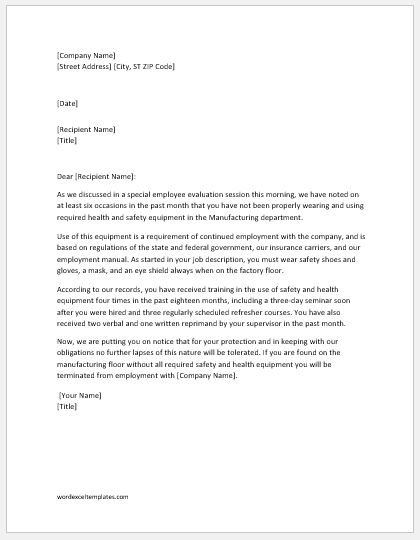 Disciplinary Action Letter for Violation of Health and Safety Rules
File: Word (.docx) 2007+ and iPad 
Size 19 Kb   | Download
---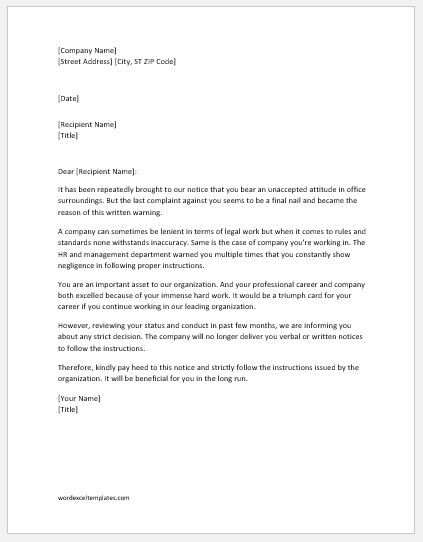 Disciplinary Action Letter for not Following Instructions
File: Word (.docx) 2007+ and iPad 
Size 23 Kb   | Download