Warning letters are issued to employees for various reasons. A warning letter is a wake-up call for the employee to look after the matters that are being neglected by him/her. Sometimes these letters are given for negligence in work and other times for personal behaviors. In both cases, an employee is not tolerated in a professional environment that demands a high level of productive work output.
Every company/organization set some rules for themselves to excel in the industry they are working in. To set up these rules some instructions are given to employees to streamline their work and office routines.
An employee may not be following these instructions due to different reasons. In such circumstances, a warning letter may be given to that employee to improve the performance of the employee or to get him streamlined with the rules & regulations or instructions. The following letter is a sample that can be used in this situation.
Sample Letter
Dear [Employee Name]
It has been repeatedly brought to our notice that you bear an unaccepted attitude in office surroundings. But the last complaint against you seems to be a final nail and became the reason for this written warning.
A company can sometimes be lenient in terms of legal work but when it comes to rules and standards none withstands inaccuracy. The same is the case for the company you're working in. The HR and management department warned you multiple times that you constantly show negligence in following proper instructions.
You are an important asset to our organization. And your professional career and company both excelled as a result of your immense hard work. It would be a triumph card for your career if you continue working in our leading organization.
However reviewing your current status and conduct in the past few months, we are informing you about any strict decision. The company will no longer deliver you verbal or written notices to follow the instructions.
Therefore, kindly pay heed to this notice and strictly follow the instructions issued by the organization. It will be beneficial for you in the long run.
Regards
HR Manager/Management
Preview and Details of Template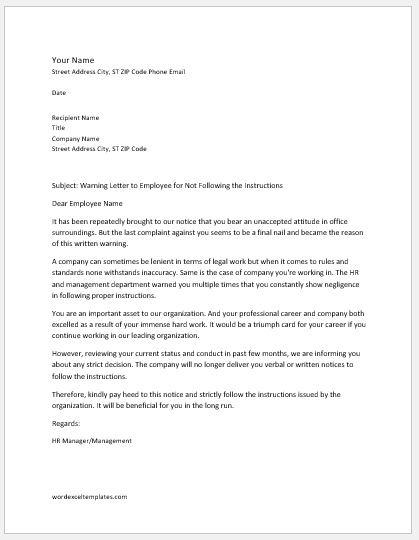 Letter Template
File: Word (.doc) 2003+ and iPad 
Size 23 Kb
[Personal Use Only]
Other samples
#2
Re. Warning for not Following Ordained Instructions on Code of Conduct
Dear Mr. [NAME],
The letter shows a great deal of disappointment at your end and concerns the head of the administration. All the administrating supervisors have reported against and thus, this letter should serve as only a warning. Next time, termination notice could be served
This letter has been written on behalf of Mr. [NAME], who shows great anger and discourages your manners. It has been reported to the office of Mr. [NAME], the Dean of Advance Studies, that you depict zero professionalism, poor performance, an aggressive style of communication, and an inappropriate dress code. The office considers all the reported complains and writes you a letter of warning.
It has also complained that you have been warned by your immediate supervisor many times but you paid no heed to the instructions. It is not allowed in the office to disregard the supervisors by not listening to them and following the said instructions.
You are ordered to write an apology letter to your supervisor immediately and report to the office of General Administration on [DATE] at 2 PM. If not reported, the administration shall take further notice and strict actions.
I hope you will follow the instructions of your supervisor and always stay respectful to your seniors. We highly discourage unprofessional demeanors and always endeavor to make this office a cordial workplace filled with harmony and peace among workers.
We are looking forward to the improvement in your demeanor. Thanks.
#3
Re. Warning for Failing to Follow the Prescribed Instructions by the Project Manager/Team Leader
Dear [NAME],
Recently, it has been brought to our attention by the General Manager's Office staff that you have not been taking office rules and instructions seriously. You have been seen ignoring most of the instructions ordained to you. According to the notice, it has been reported that you have been neglecting your responsibilities and most of the tasks stay on the to-do lists and never completed.
Your Head of Department (HOD) has also confirmed that the complaints are true to much extent. Moreover, he added that you are not following the prescribed instructions of your Team Leader in the recent project [NAME THE PROJECT]. This directly goes against clause no. [xx] and [xx] of the Handbook of Employees' Conduct Ordinance.
If your demeanor is not corrected, it can attract multiple disciplinary actions against you including suspension from the designation, disqualification, or termination.
However, you have always been an honest and hardworking employee, we want you to discuss the matter with us before any grave result comes out. We would like to have you on the table to converse if anything is wrong. You are not allowed to disregard or undo any of the instructions by the supervisors, HODs, and executive members of the team in any procedure or project.
Please submit your response to the warning letter to the Office of the Senior Human Resource Manager.