It is very common to have issues with your manager when you are working as a subordinate in an organisation. You deserve to be treated with respect and exercise your rights conveniently. When you feel that your supervisor is not cooperating with you in any way, you can lodge a complaint against him.
What is a complaint letter against a supervisor?
The letter in which the subordinate shows grievance over the inappropriate and unprofessional behaviour of his supervisor is known as a complaint letter. The content of this letter depends on the situation. In general, this letter is intended to address the problems with the higher authorities.
Who can be written the objection letter?
There are higher authorities in any organisation that have the authority to castigate the manager if it turns out that he is at fault. The candidate should write to those authorities and address all the problems that are being faced by him due to the inappropriate behaviour of the supervisor.
How to write?
If you are not happy with the supervisor's behaviour or the way he monitors your work, you can simply write a complaint letter against him. This letter will either help you get rid of this nasty person, or it will convince the supervisor into behaving well. Here are a few guidelines that can be followed to write a professional letter with a complaint:
Discuss why you are writing:
In the very beginning, tell the reader what made you write this letter. Here, you will not give any details and share the purpose of writing the letter rather.
Discuss the issue:
Now, come to the main point and tell what problems you are facing while working under the supervision of the person you are complaining against. Here, you need to be extra careful with your words because you cannot attack anyone's personality. Even if you are angry with him, you should not pass acrimonious comments because it will show that you have personal grudges against him. This way, your letter can get ignored.
Make sure that you take the facts and figures into consideration while you are writing this letter.
Appreciate the supervisor:
In order to prove that you don't have any personal issues with him, you should appreciate the manager for all the good things he has brought to you in your job.
Remain respectful:
Your manager is your senior, and you cannot show disrespect for him even if he is disrespectful towards you, you have to prove that your morality does not allow you to behave the same way. So, discuss him with respect and explain your issues in such a way that it sounds totally real to the reader. For this, it is recommended to never exaggerate things and remains honest with your writing.
Below is given a sample letter that you can follow:
Sample letter:
Subject: Complaint against the supervisor
Respected sir,
I hope that you are doing well. I am working in your company for more than 5 years now in the marketing department. I am much satisfied with my job up and until I have been assigned Mr James as a supervisor. I am writing this letter to show my dissatisfaction at the workplace due to the bad behaviour of Mr James.
Mr James acts very rudely and the way he talks to me makes me feel insulted. My self-esteem is getting low because of him, and it has become difficult for me to concentrate on my work when he is around
Because of the fact that Mr James' attitude is very awkward, my productivity has declined drastically. He believes that it is only he who deserves to be respected. He thinks that every person working under his supervision is his slave.
I have no personal grudges against him, and I respect him a lot. I am grateful to him for supervising me and I appreciate the way he guides me. But, I believe that one should never compromise on self-respect. It is my humble request to please look into the matter.
Quick response and investigation from your side will be appreciated.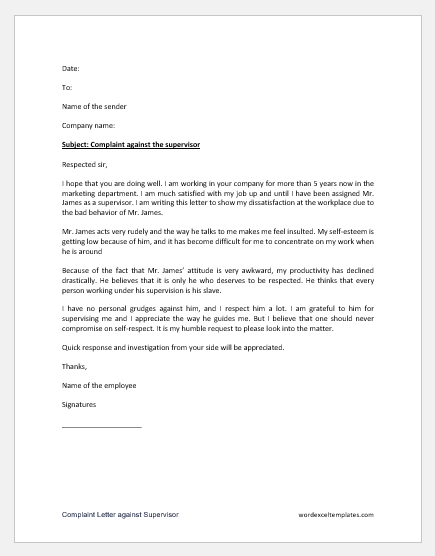 File: Word (.docx) & iPad
Size 22 KB
See also: