#1
It hereby affirms you our firm has completed the work that you order us. Although it was tricky, and your specifications were somewhat out of our standard operating procedure, yet our team handled it very well. Our work has been completed and stamped by our quality assurance department. We have attached the report of observation, testing, and conclusions so that you have a complete proof from quality approval of the products. You will receive the consignment till evening. I hope you will appreciate and like to order us again. Thank you for relying on us. We hope you will trust us and want to take our services in the future.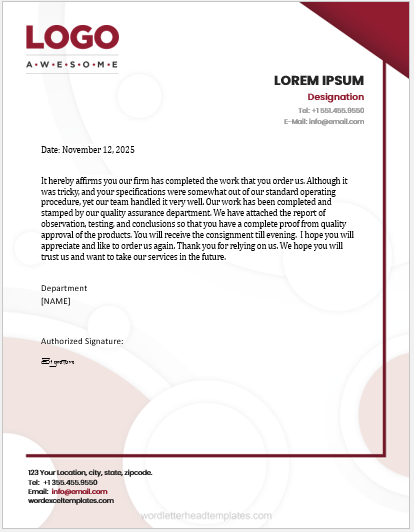 File: Word (.docx) 2007+ and iPad Size 441 Kb |
Download
---
#2
It hereby informs you that the project that you have assigned has been completed successfully. We have approved all the products from our quality assurance department. All products are tested and certified from authority. You will find no defects and all the products are according to the specification you provided us. I hope you will like our products and order again. If you find any issue feel free to contact and discuss so that we can clear it. Thanks for trusting us and assigning the work. Good day!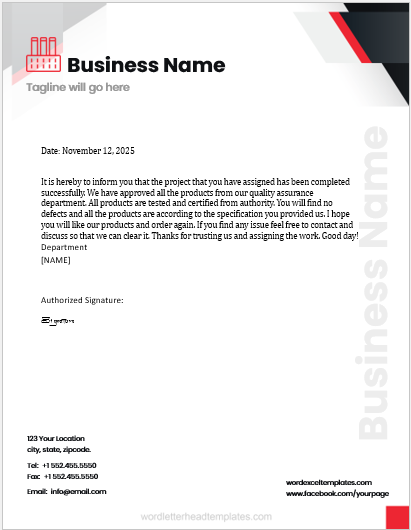 File: Word (.docx) 2007+ and iPad Size 158 Kb |
Download
---
#3
I hereby affirm to my observation and knowledge the work you assigned to me has been completed. I have tested and proofread all the things to avoid any inconvenience. Our quality control laboratory has tested every product so that we don't have to face any problems. Thanks for assigning us the task and taking the services. I assure you will receive the best quality service from our side. Check and confirm to prolong the business relationship. Send us feedback. Also, if you have any queries, we are ready to resolve them.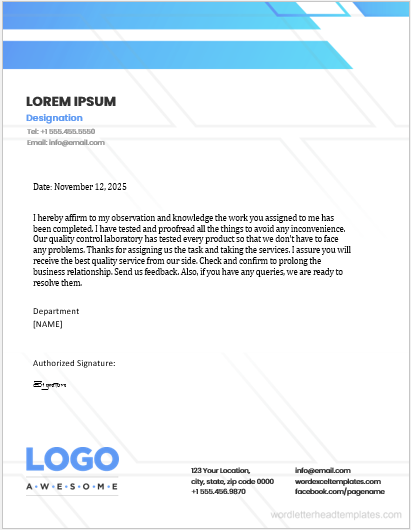 File: Word (.docx) 2007+ and iPad Size 287 Kb |
Download
---
#4
I hereby inform you, the work that you have assigned us has been completed with courage and hard work. We have noticed all the tiny things and worked accordingly so that your customers find no problem with the product. We have observed tested and then took the product to final packing. You will find superior quality from the product to its package. You have assigned a task with a deadline and we are happy that we have completed before time. Check the products and we are hopeful that you will be completely satisfied.  Waiting for the feedback. Have a good time.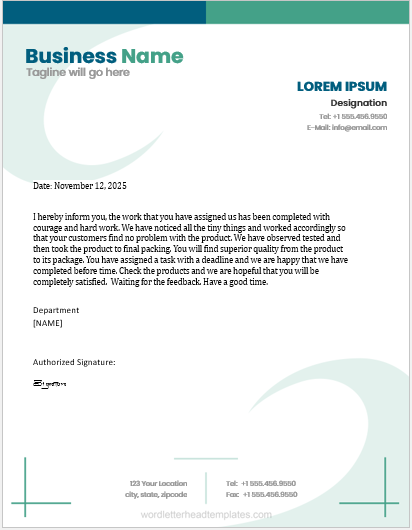 File: Word (.docx) 2007+ and iPad Size 125 Kb |
Download
---
#5
We are pleased to inform you that we have completed the construction work on the site that you asked us for. Although it was the mega-project our team completed it courageously. They did hard work and constructed the building according to the building standards. I am sending you the report with documents so that you confirm all the SOPs, you may send your team for a thorough inspection. Thanks for giving us a chance to handle this modern design project. Waiting for your feedback and good remarks, it has been a great privilege to work with you. I will want for the next project and will love to work with you again.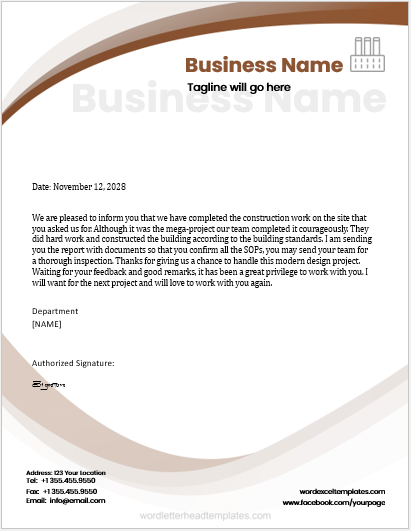 File: Word (.docx) 2007+ and iPad Size 356 Kb |
Download
---