According to a survey, major revenue or sales is generated in restaurants for the repeated customers. This means that customer satisfaction is so important in restaurants and this is also the key to its success. By simply providing quick and friendly services to the customers from the moment they enter the restaurant to the point they leave makes sure that the dinners come in again and again and expect the same every time.
It is said that the first impression is the only impression. This is true in the case of restaurants as when a person enters a restaurant, he hopes to get guided and properly attended by the management. For this purpose, a restaurant waiting for the guest checklist is used by the manager.
This restaurant waiting checklist is a form or document that helps restaurants in organizing and managing the waiting list of the visitors as the name prominently suggests. This list is used to avoid the minor or major disputes between the diners and the management. This list bears the arrival time of each guest along with the time in which order is taken. This allows the manager to know that the waiting time does not exceed the limit set and the service runs smoothly.
This checklist is drafted in columns and each column relates to a new customer. Apart from this, the table number of each dinner and the number of persons dining on each table is also mentioned. The last column is dedicated to the checks only. Here the manager can tick off the column if all the services are given according to the set standards.
The restaurant waiting for the guest checklist is important and used widely now as it can set the whole new levels of standard of services provided by the management and after they are determined once, the management can always improve it with the help of this checklist. This also works as a training tool for the new servers and the entire service staff. For making this procedure effective, efficient and well balanced, a template for restaurant awaiting guest checklist is used. This ensures that all the needed information is provided.
Preview and Details of Template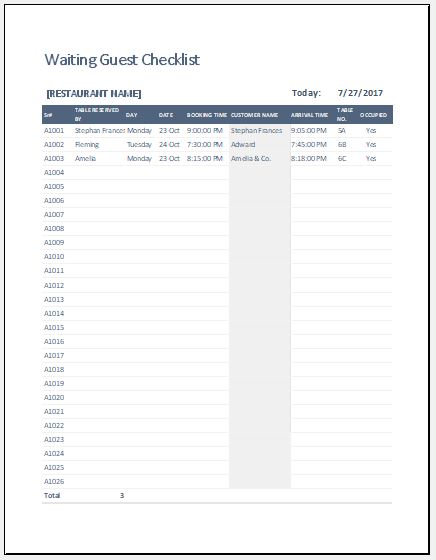 Restaurant Waiting Guest Checklist Template
File: Excel (.xls) 2003+ and iPad 
Size 49 Kb | Download
License: ENERGY [Personal Use Only]