Party Invitation Cards
Completing college is a good feeling. It makes us feel that we are closer to our dreams. But completing university can be one of the most desired feelings. Imagine, going to a university with the dream to complete the course and be counted among the list of degree holders. Having a complete degree in our life adds to our confidence. We know we have completed a milestone in our life. We know we have gracefully survived the four years of a university and now we are ready to take up the worldly challenges.
Ever since we are kids, still attending our schools, our parents would emphasize the importance of attending university and having a university degree. By the time we get indulged with our university life, we get so emotionally attached to our friends, teachers, and study that the degree itself becomes a very valuable asset of our life. Our university education shapes our personality and makes us a different person all the way.
Despite all the memories we make, our graduation day has a unique significance in our life. We choose a special dress, prepare our speech, practice for our special day and most important part is when we take our loved ones to our graduation ceremony. Graduation day is a feeling just beyond a day. People would take pictures of their graduation day and place it on a special wall in their homes.
Most of the universities allow bringing guests as well to the ceremony. But you are not allowed to take more than two people. These two people are the most special people in our life and most of the times, they are our parents. Our parents are the people who are the happiest to see us succeed. But we have other people in our life as well who support us through our hard times. And they deserve to be a part of our big day. For this reason, people plan their graduation party where they invite their friends, colleagues, family, and relatives.
Sending a graduation invitation to invite people shows how much you value them and want them to be a part of your success and happiness. Invitation cards including a theme can be helpful for people to buy any gifts. The best idea could be to design your own invitation cards and send them away. Fancy graduation party invitation cards are also available in the markets which can be helpful to invite people.
Having cards designed in MS Word makes it very easy to customize it. People use MS Word software for some reasons:
It is easily available with every one
People feel comfortable working with it
Editing & printing options are very user-friendly
So choose, design and print your card from the given templates.
Preview and Details of Template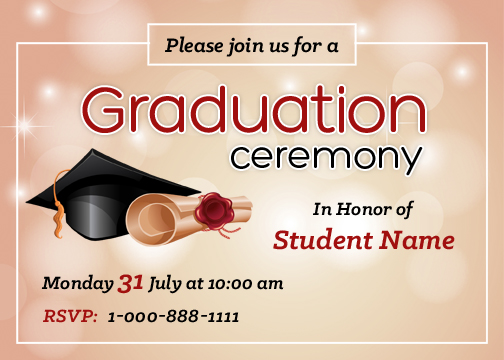 Graduation Party Invitation Card Template
File: Word (.doc) 2003+ and iPad 
Size 18 Kb | Download
License: ENERGY [Personal Use Only]
---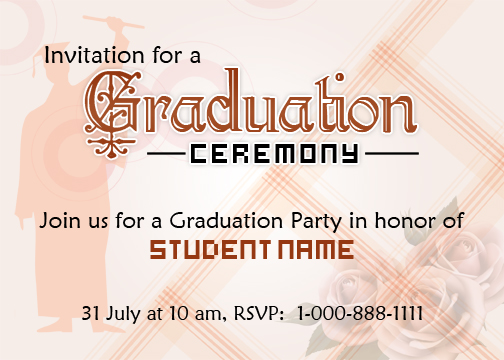 File: Word (.doc) 2003+ and iPad 
Size 18 Kb | Download
License: ENERGY [Personal Use Only]
---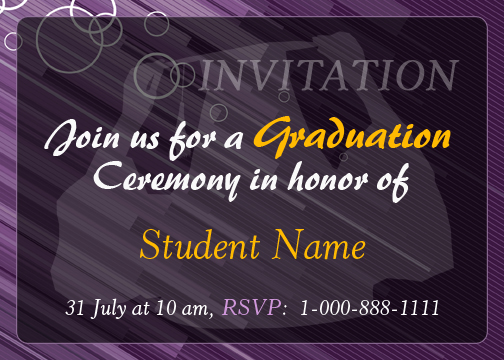 File: Word (.doc) 2003+ and iPad 
Size 18 Kb | Download
License: ENERGY [Personal Use Only]