Certificate of origin is a document use while carrying out international trade. The primary purpose of this certificate is to recognize the state that has manufactured, exported and manufactures the products or goods.
Since the certificate of origin is checked thoroughly by the destination country, the country that has shipped the goods is responsible for mentioning the origin. The certificate, after preparation, should be notarized by the commerce department of the country. It is imperative that the details described in the certificate of origin are accurate and well-documented.
Main elements of the certificate of origin:
The main details added to this certificate are:
The key information of the importer as well as exporter
The description of goods
Details of terrifying codes
Description of the country that is the origin of the exported goods
The date at which the goods were exported
Weight of the goods
Benefits of using the certificate of origin:
Trading, both domestic and international is carried out after the preparation and documentation of the source certificate because of its usefulness. It ensures that the delivered have imported from a reliable source.
The company that has imported the goods provides the details to the airports and cargo so that they can deliver the imported goods to the markets.
Every country has its trading agency. Make sure that the certificate of origin compliance with the format of the state's certificate where you are exporting the products. Preparing the certificate with the correct format is important because the country conducting the import may reject the goods if the certificate of origin is not well-formatted.
The font style and the structure of the certificate should also be following the professional certificate of origin.
The certificate of origin template in a professional look has been provided here on this website. The main purpose of this easy to use and the ready-made template is to save the person from the hassle that he may face while preparing a certificate of origin from scratch.
Preview and Details of Template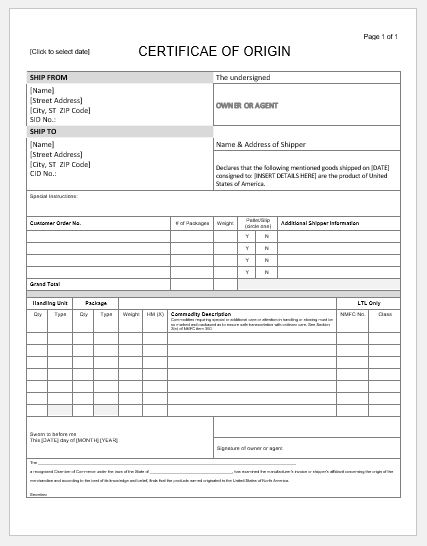 Certificate of Origin Template
File: Word (.doc) 2003+ and iPad 
Size 21 Kb | Download
License: ENERGY [Personal Use Only]