House Cleaning Checklist
This checklist helps to keep a good record on the cleaning of the house. The worksheet gives a lot of flexibility and chances to do exactly what a person plans to do daily, weekly or monthly. The template can also be made in daily or bi-weekly reminders.
The house cleaning checklist works at its best as it divides all the tasks in manageable chunks and when the person in charge look at it, he/she look at the manageable tasks rather than a mess. This schedule easily divides each task in days, for example, one can dedicate the kitchen cleaning to Tuesday and room cupboard cleaning to Friday. They can easily focus on each of the areas separately while managing all other tasks. Just hang the list somewhere convenient and tick away the areas once they are done.
Template
This is a very simple checklist and anyone can make it according to the usage and convenience. However, the best way to make a house cleaning checklist is to start it with the heading of "house cleaning checklist". Then, the user should decide that how he/she wants to divide the tasks. It can fall into the categories of daily, weekly or monthly. If one chooses the daily category, he should further divide this into areas to work on. For example, kitchen, lounge, rooms, and bathrooms, etc. Under each heading should come to the tasks to be completed with a box to tick on after completion or a 'cross' to place if one fails to do so.
If the user wants a weekly list, he should further divide on the basis of days. Each day should have different tasks based on the areas to be worked on. The boxes to be ticked or crossed on should not be forgotten. On the other hand, when we talk about the monthly checklist, the division should be on the basis of weeks so that it gets easier to follow. Each week should be further divided into tasks. Another way to follow the checklist is to simply write down every task you do on a piece of paper every day, but it will get a bit messy.
Preview & Details of Template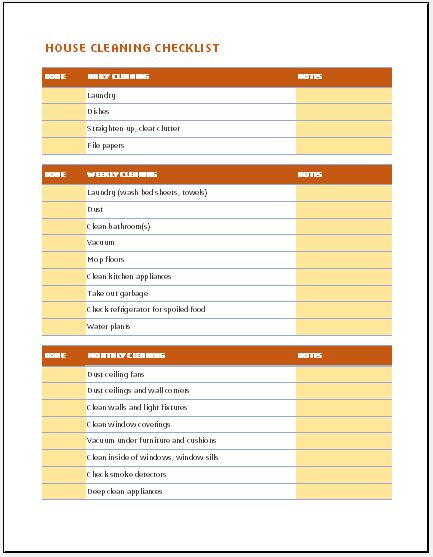 House Cleaning Checklist Template
File: Excel (.xls) 2003+ and iPad
Size 43 Kb | Download
License ENERGY [Personal Use Only]
[Not for resale & distribution]