Project performance report:
Working on the performance of the employees on the project completion is an important task that should be monitored. An effective project can be delivered on time if the performance of the employees is continuously monitored. Preparing the report on the performance after regular interval of time also keeps the workers active and accelerated towards their goals.
What is project performance report?
A project performance report is a document that gives the feedback to the people working for the specific project. It also enables them to know where they stand. Keeping track of the performance and then preparing a report on it is one of the major activities of the project management.
Steps involved in preparation of project performance report:
There are different steps that are taken to ensure that the performance of the project is being monitored. Those steps are:
Gathering the information about the project
Utilizing the resources
Analysis of the past performance so that the comparison with the current performance can be made
The risks and issues that a project can face currently
The achievements
The details of the work that is being performed before the next project performance report
How to prepare project performance report?
The report on the performance should be prepared comprehensively. All the details of the performance should be mentioned in it. The employees should be informed about the evaluation beforehand. The purpose of conducting the evaluation and then preparing the report is very important part of this document.
The words to be used in the report should be chosen with great care. Make sure that the words used by you don't hurt the employees. Try to encourage the employees if you find them not working properly in any phase of the project accomplishment. Make sure that the report prepared by you is based on true facts and figures. Try to give your honest reviews in the report.
The report should be ended on a very positive note. You can also inform the employees about the next evaluation for preparing another report.
Preview and Details of Template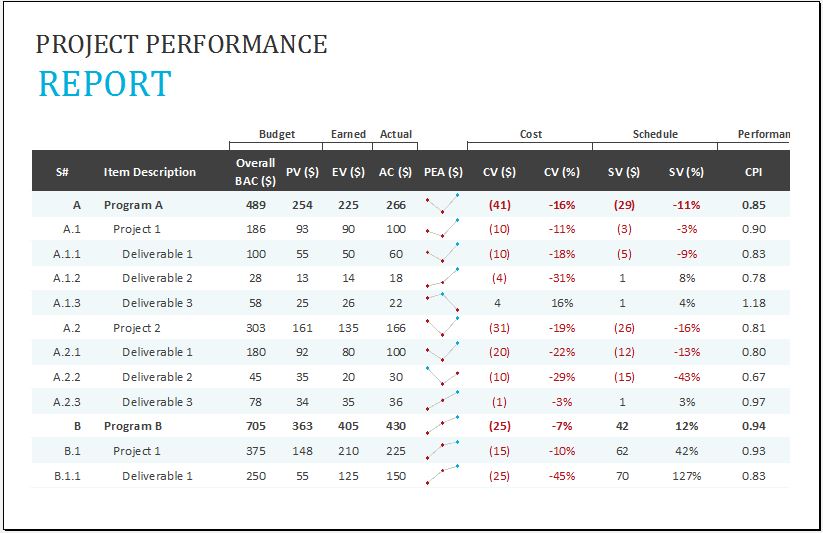 Project Performance Report Template
Format: MS Excel
File Size: 68 KB | Download
Provided By: Microsoft Excel Templates