Work order tracker:
One of the most critical tasks to be performed in any business is managing the flow of work. Those organizations that work 24 hours a day need more planning and practices to manage the workflow. The workers working in any organization are responsible for processing the work orders that are assigned to them and to ensure this, they can use various devices such as a laptop, mobile, tablet etc. The details of the work order used to be written on paper. With the advancement in the technology, detailing the orders of work is now done electronically. These electronic ways are more efficient and fast.
Work order tracking template:
There are many templates that are available on the internet that can be used to track the orders of the work. The templates used for tracking the work orders have following features:
Tracking the work orders of the services
Ensuring that the data that has been used is not duplicated i.e. its integrity has been maintained.
Ensuring that the work orders are being tracked efficiently
How to track work order:
Before you start tracking, you should know the number of activities that you are required to perform. You can create a flow chart that can indicate all the activities to be performed.
Schedule the number of tasks to be performed. In scheduling, you will arrange all the tasks in a sequence. There are different rules of job sequencing. Choose the one that suits your needs.
Develop a system for tracking the time. This will record the time at which the orders are received. The main purpose of using this system is to know the time that is being taken by the organization in processing the service work order.
Such a system should also be established that not only records the delays and failure details but also notifies these details to the concerned parties. The job history of each order can be sent to those parties in order to let them know about all the details regarding the order placed by them.
Preview & Details of Template
Work Order Template
File: Excel (.xls) 2003+ and iPad
Size 39 Kb | Download
License: ENERGY [Personal Use Only]
---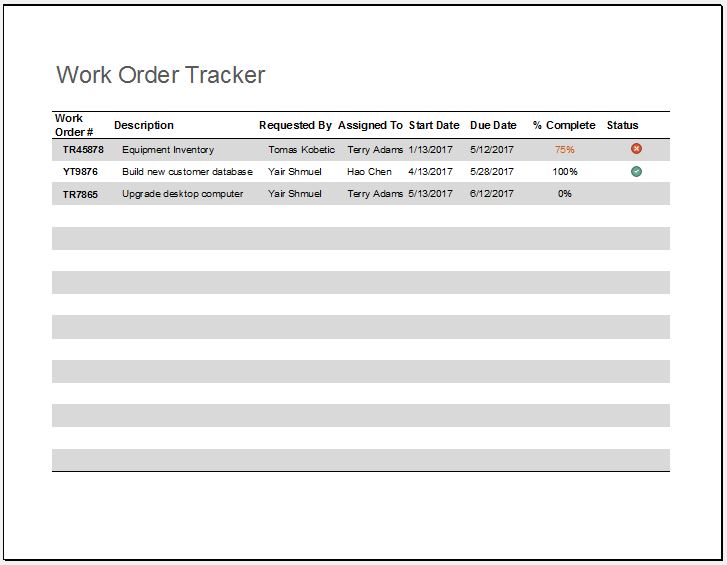 Work Order Tracker Template
File: Excel (.xls) 2003+ and iPad
Size 34 Kb | Download
License: ENERGY [Personal Use Only]