Basic sales report:
A sales report is basically a record of all the products that have been sold out at a time. This report is usually prepared by the sales persons or the management of the business.
Data input sheet:
Data input sheet is one of the major documents which is used while preparing the sales report. The record of all the products which are available in the warehouse of the company is kept in the data input sheet. The price at which the product was purchased from the manufacturer and the price at which it will be sold to the customer also inputs in this sheet. This data input sheet then helps a company in getting all that information that it needs to prepare an effective and complete sales report.
Sales report:
The sales report is a very important document for those people who want to know the volume of the item that has been sold in a period. It also helps them getting the information about the new and current accounts that the business has contacted. The cost incurred in promoting the sales of the product and several other costs that are related to the selling of the products of the company can also be seen through the sales report.
Some businesses also deliver the sales report to their customer to let them know how much they are valued. The total number of products that the customers have purchased, the discount provided to the customers and the total paid by the customer etc. are added to the sales report which is prepared for customers.
Data list:
The businesses own the data list for many purposes. The information to be processed can be taken through the data list since it contains the most updated information. It is a very important document since it helps the company preparing different types of sheets and documents. The total number of customers, total items that have purchased, the orders that have been placed and lots of other data is input in the data list. The information of the customer has also entered it.
Preview & Details of Template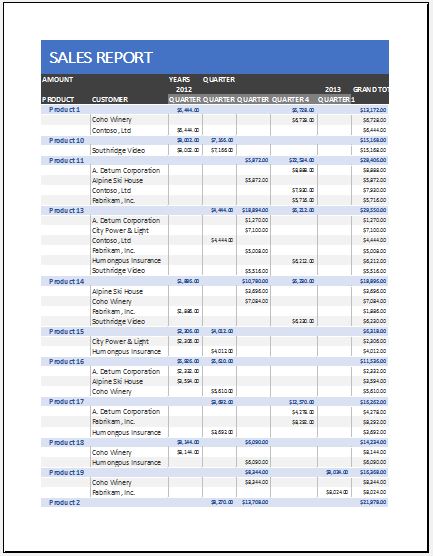 Sales Report Template- 2018
File: Excel (.xls) 2003+ and iPad
Size 34 Kb | Download
Provided by: templates.microsoft.com/