There is numerous cases or situation in which a person needs to verify his job and details. The case may be a requisition for hiring a house or a shop, it may be hiring an office for your business or opening a bank account. Proof of employment is the prerequisite for all mentioned activities.
This is for the safety and security of the landlord as well as for the person who is applying for the requisition. No one should take it personally or mind it whenever proof of employment letter is demanded.
The fact behind the demand is that the landlord needs verification of your job and income because he is responsible for providing his space to verified persons and he must be knowing the job specification of his tenant to avoid any fraud or ill-legal activity.
While in another case, the opening of a bank account also needs verification of income and job to maintain the bank statement for official use as per the country's law. Job verification is not limited to the above-mentioned purposes and may be demanded in many other scenarios as well.
1-
To whom it may concern
This is to certify that Mr.[name] has been serving as [designation] in our firm [name] since [date]. He is drawing a salary of [amount] along with medical insurance and transport charges. He is a valued employee and has a stable position at our firm.
In case of any further queries, please feel free to get in touch with Mr. [name] from our Human Resources department at [phone number] or [email address].
2-
I received your letter requesting proof of employment of Mr. [name] in reference to his loan application submitted to your bank. Mr. [name] was hired in [year] as [designation] in our firm [name]. Through his hard work and dedication, he has risen to the rank of [designation]. He is drawing a salary of [amount] along with health and life insurance.
I want to assure you that he is in a stable position and is a valued employee. He is a very trustworthy and responsible person and if you grant him this loan, I am sure that he would pay it back in time and without causing any trouble.
In case of any further queries, feel free to get in touch with our Human Resources Department.
Proof of Employment Letter -3
William Jordan.
ABC Textiles.
CEO
13 St. Horse Avenue, Florida.
To Whom It May Concern
Dear,
I am writing to inform you that Mr. Jonathan is serving at my company for three years. He joined as a deputy manager (Fabrication department) and after passing his promotion exams, he was promoted to manager (Fabrication department).
He has a bond period of seven years and four years are still pending. He is one of the best employees in my company. His current pay is $9000 which is enough to clear the dues of your house in time. He has a small family of three (husband, wife, and daughter).
In this view, it is recommended that the requisite house may be allocated to my employee on an urgent basis. I hope this letter will serve the purpose. If you need any other detail, then you can contact my office number or you can email me the desired information.
Sincerely,
William Jordan.
CEO, ABC Textiles.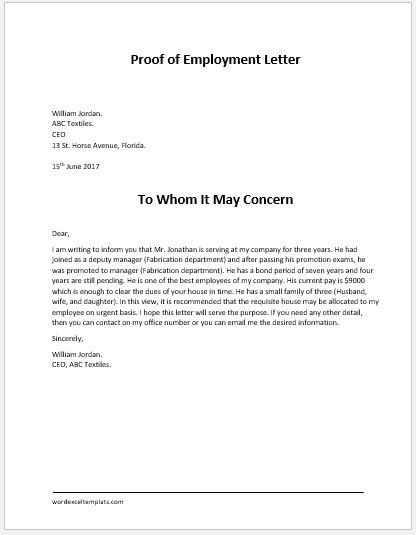 File: Word (.doc) 2003+ and iPad
Size 34 Kb
See also: