Sales activity reports are a crucial phase of any industry. These reports help the industry to keep an eye and to understand the progress of the sales and to look at and identify any shortcomings in the area. This tool is so important in an industry that every business makes this report and after utilizing it the sale is checked every week.
Significance of the report
The sales manager is expected to draft this sales report and to submit it to higher authorities so that they have a complete report on how the sales department is working and if there is any technique needed to be followed in order to motivate the team.
The weekly sales report helps the manager to look at the weekly sales and in this way shortcomings can be identified and rectified easily. This sheet allows the sales manager to track how much time is spent on effective sales activities, and whether the team is meeting the set targets and weekly goals. In this way, the manager gets a good picture of the sales department, team, and goals.
Template
If a sales manager wants to make the best and simple weekly report, he should simply follow the standard format. By following this, every report will be synchronized and easily understandable.
The report should start with the title on the top. Second to the title should be the time period to which it belongs. The name of the salesperson and the item sold is a must to be mentioned. If the report is drafted in a tabular format, it will give a good impression and anyone can understand it with ease. For this, on the left-hand side of the table should be written the names of the working days of the week. On the upper side of this table, should be made three columns, one relating to the working hours, second to the numbers and the last one should be allocated to the revenue generated.
Each column should be further divided into further columns like in the office, outside the office and, other than sales, etc.
The total amount of these sales should come at the end of this table along with the goals set at the start of the week. In this way, goals set and achievement can be compared.
Preview & Details of Template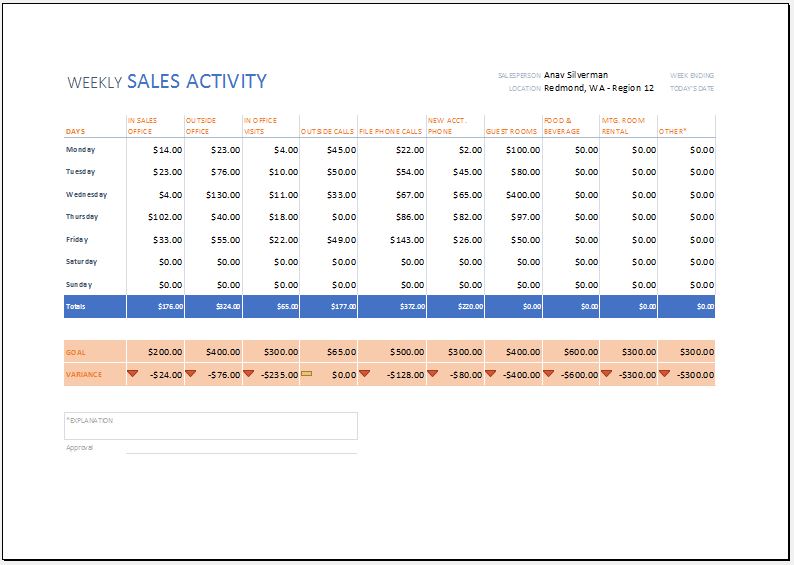 Weekly Sales Activity Report Template
File: Excel (.xls) 2003+ and iPad
Size 43 Kb | Download
License ENERGY [Personal Use Only]
[Not for resale & distribution]