If you want to be certain that your business is working fine, you can monitor the progress of your staff. This monitoring generally includes keeping an eye on the progress and taking notes on the reviews obtained after careful observation of the sales activity. Some people monitor sales activity monthly, but those who are more concerned and interested often monitor the weekly activity. They ask the sales manager to prepare a sales activity report every week and share it with them.
A sales activity is any task that a sales team performs to sell products to customers. This activity is carried out every day, and salespeople are held accountable if they don't show any progress.
What is a weekly sales activity report?
It is a statement or a formal document that is prepared by the sales team to summarize all their activities pertaining to marketing the products in one week. This report is prepared for those who want to see how well sales activities are needed and if there is any improvement needed. With the help of this report, it can be easily seen what kind of sales-related tasks the sales team has performed in order to reach its goals, to what extent the team has reached its goals, the outcomes of all the listed activities, and much more.
It is very easy to get a deeper insight into everything that happens in the marketing department of the company, as a weekly report can be a representative of what happens here throughout the entire year.
What are the uses of the sales activity report for a week?
This statement has plenty of benefits. The following are some of them:
It helps in the identification of trends
If a business wants to boost its sales and get more customers, it should be aware of the current situation. There are trends that every business follows. It is very common to lose sight of them as there is so much to do in a day-to-day routine. However, a report of the activities never lets a business ignore the trends because everything regarding them is crystal clear in the report.
It is helpful in the interpretation of the progress
Taking steps that can be useful for a business in promoting its services and products when the current progress is clear. The report shares the statistical data, which shows accurately how much progress a company has made. Based on this information, many important decisions can be made. For instance, if the report shows that the progress is not as expected, the company can devise some ways and strategies that can be followed to make the company go faster.
Goals achievement can be assessed
Every organization has set some goals that it wants to achieve. Goals are hard to reach when there is no mechanism to keep a check on them. The report comprehensively explains the goals of a business that were previously set, the description of the goals that are yet to be achieved, and much more.
They are best for making comparisons
When a business wants to determine whether it has done better than before or not, it will have to make a comparison between two different reports from two different periods. This helps in comparison, and as a result, it gives a lot of information for a company to fall back on.
How do I use the template?
Creating a report, whether you want to target daily activities or weekly activities, becomes easy with the help of a template because it tells you how many details are required to be added and what to input in the report. This way, you can always create a report effortlessly without having to have a deeper insight into how a report is created.
The format of the template is the same as a professional report, so people who are using them don't have to think about the format. In addition, the content of the template can be modified, which means you can add and show only those details that are relevant to your company and leave the rest of the elements.
The customization feature of the template makes it desirable and the best tool for everyone, regardless of what competency they hold.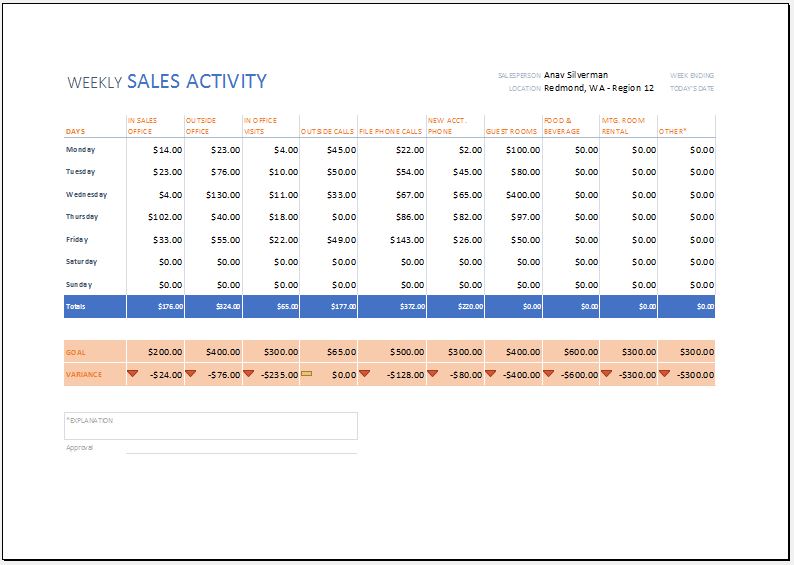 File: Excel (.xls) 2003+ and iPad
Size: 43 KB