In the growing businesses, it is a common practice nowadays to keep the employee happy. Only by keeping the employees satisfied can a company or business progress in real meaning. If we think wisely, the employees most often only ask for yearly vacations so that they can relax and can spend some decent time away from the work. They may need it from time to time or they at least apply for it from time to time. The management of the company needs to make sure that these requests or applications are recorded so that a proper work order can be maintained. For this purpose, the employee vacation request sheet is prepared by them.
By keeping these vacation requests recorded, it can be easier for the company to have a track of all the employees who have applied for and received the holidays. This ensures that the staff problems are minimized and necessary preparations can be done according to the applied vacations of employees.
The best way to make this whole process effective and efficient, it is advisable to use a template for employee vacation request form. It can prove to be a very helpful tool as all the necessary items were in place already and all the company needs to do is to fill in the relevant details related to the period in question.
A typical employee vacation request form template will have spaces in employee name, dates and days of leaves requested by him, any policy related to the request, approval or denial and its reason along with the number of remaining allowed holidays.
Here are several reasons for why this vacation request form is commonly used now.
It keeps the company and the employees informed about their vacations like how many off days are utilized already and how much can still be used.
A company can use this request form as a proof of days worked and in many organizations, it can be used to calculate the wages and salaries. Moreover, hiring the new staff can be scheduled by using this sheet.
Preview and Details of Template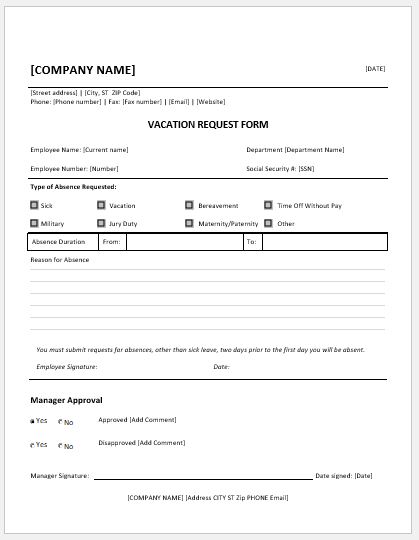 Employee Vacation Request Form Template
File: Word (.doc) 2003+ and iPad 
Size 35 Kb | Download
License: ENERGY [Personal Use Only]