The complete review and the delivery of the project or any product are done by the project manager. These project managers are responsible for managing each process that takes place in project completion.
The delivery of the project is one of the most important tasks that are conducted by the project manager. To make this process smooth, the project managers are recommended to use the delivery checklist.
What is the purpose of using a delivery checklist?
The basic objective of using the delivery checklist is to ensure that all the important tasks prior to delivery have been completed. Timely delivery is the main priority of every project team to maintain the good reputation of the company. The purpose of the checklist is to ensure the timely delivery of the project.
Benefits of using a delivery checklist:
The delivery checklist acts as a reminder for many tasks that are necessary for project delivery.
It helps the project management team in reaching the goals.
The checklist also enables the project manager to check the quality of the project.
There are different aspects of a project that are required to be checked before delivering it to the client. Some of the key aspects of the quality assurance, safety check, troubleshooting guide and a lot more.
How to create the delivery checklist template?
The checklist should be started with the basic information such as project team name, the name of the project, names of the project leader and advisor, date, and location on which the project was delivered and a lot more.
Include the tasks that you should do before delivering the project to the client. This checklist includes providing your contact information to the program coordinator, discussing project related issues with the client, giving series of a questionnaire to check the satisfaction level of client and a lot more. The contents of this checklist totally depend on what and how you want to deliver.
If there are some tasks that are required to be done two weeks before the project delivery, you can write them in the different category.
Preview and Details of Template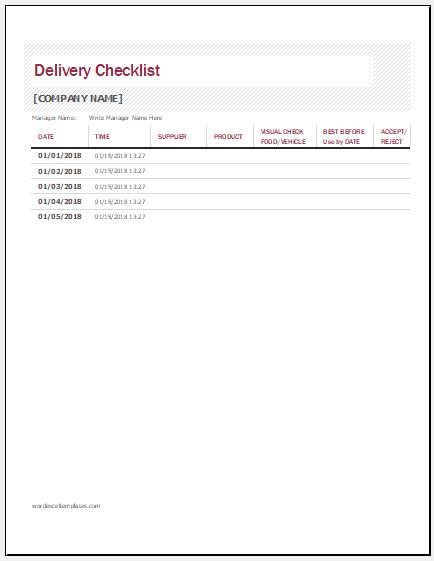 Product Delivery Checklist Template
File: Word (.doc) 2007+ and iPad 
Size 32 Kb   | Download
[Personal Use Only]