Sympathy or condolence letters are drafted to express your solicitude to the related family, friend, or a colleague. Your words of comfort can prove to be a cure for your loved one. Condolence letters may be needed by someone for personal use, however, official use of these letters has increased significantly.
In offices, people need these letters to officially mourn the death of a colleague or some relative of a colleague. A manager can use these letters to show his condolence to the staff for the death of a staff member. The following letters can help you write a condolence letter if you are in a situation to draft it.
Preview and Details of Templates
[Personal Use Only]
Sample Letter -1
Condolence Letter on the Death of a Colleague
Dear Mark,
With a very saddened heart, I would like to present my condolence on the death of Bertie. Bertie was a good soul and sometimes, good souls depart early. She was a wonderful person who would always take care of the people around her. Not just a wonderful human being, she was a very supportive colleague as well. She has helped me grow professionally and personally.
Her presence is already being missed at work. We know that this is a very hard time for the family as well as her friends and colleagues. But we wish her soul to rest in peace. Her memories will live with us forever.
I am again very sorry for your loss.
With Love
Ryan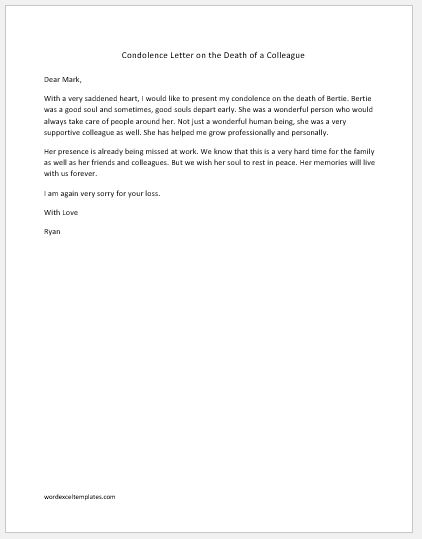 File: Word (.docx) 2007+ and iPad
Size 28 Kb
Download
---
Sample Letter -2
Condolence Letter from Employer to staff
Dear Alysha,
I am very sad to hear about the sudden death of your husband. He was a very hard-working man who would always focus on giving his best. We were always delighted with his efficient working and honest personality. It is hard to find people like him.
We can understand that this situation will be very tough for you and your kids. We wish you the best for your family's future. We will always be more than happy to help in any way we can. Considering the best performance of Mr. Mike, the company has decided to announce a donation of $ 1,000. Please feel free to collect it as soon as possible.
Thanks
Lee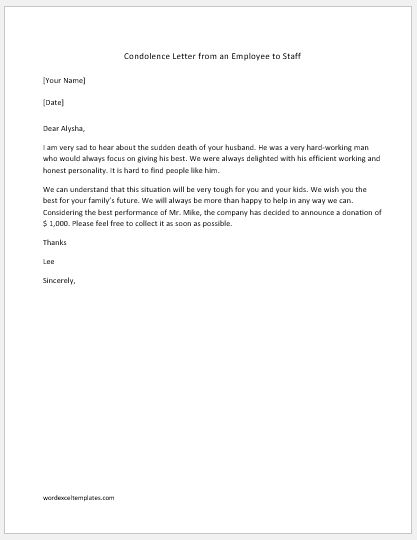 File: Word (.docx) 2007+ and iPad
Size 28 Kb
Download
---
Sample Letter -3
Death Condolence Email
Dear Mark,
Today after coming to work, I inquired about your absence and found out that your mother has passed away. I was aware that she was suffering from cancer. But I never knew that she was in such a critical situation. In the previous days, I was so much occupied with work which kept me from speaking to you.
I know it's a very hard time for you and your family. My support and sympathies are with you. We all must face the reality of leaving this world one day. I hope you are coping with this loss with all the strength and optimism of your mother.
Love
Ryan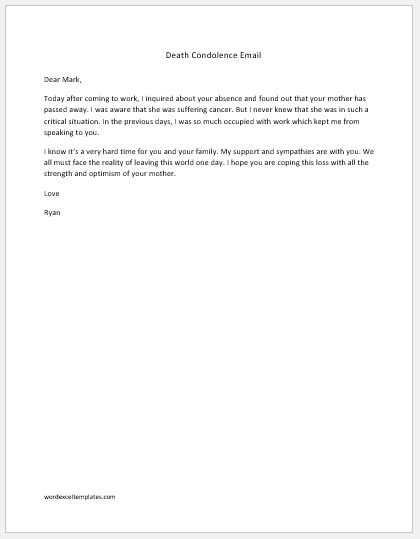 File: Word (.docx) 2007+ and iPad
Size 21 Kb
Download
---