Quality is the key factor when it comes to delivering the project after completion. The main purpose of using the quality checklist is to ensure that the desired level of quality has been ensured in the project.
A project quality checklist provides complete assistance to project management team in ensuring that the required level of quality is being ensured.
The quality checklist aids the project management team in delivering the project and goods to the customers that can maximise their satisfaction with the quality of the products.
There are different tools that are used in almost every organization to verify that all the quality-related considerations have been considered in planning, executing, monitoring and controlling phases of the project.
What is a quality checklist?
The quality checklist is a professionally used document that is used to ensure the quality of everything performed by you. It contains series of things to be checked while working on a project. All these tasks can be checked as you complete them. It plays a vital role in the development of your project.
Benefits of the quality checklist:
A checklist for quality assurance is very important to be used because it helps you know the quality you have put into your project.
It never let you forget any important thing be done which can play the main role in ensuring quality.
It is completely handy.
it is the best document to know if you have covered all the important aspects of the project to improve its quality.
It is always considered as an appropriate approach to use the quality checklist to make sure that the project has consistency and has completed all the important phases successfully.
Quality checklist template:
The tasks and activities given in the quality checklist may vary as they completely depend on the type and nature of the project.
The template of quality checklist can be downloaded from here. This template is very versatile that enables every type of user to use it after customising it according to his own needs.
Preview and Details of Template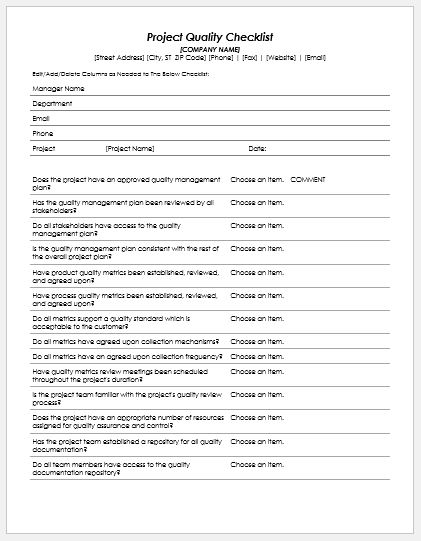 Project Quality Checklist Template
File: Word (.doc) 2007+ and iPad 
Size 532 Kb   | Download