Every individual desires to get a job that is stable and reliable. Employees can never trust their job. When you get your salary on time, you can pay your will within the due date without paying a fine and get away with lots of problems that may occur due to delays in the payment.
What is a resignation letter due to a delay in salary?
It is a formal letter in which an employee communicates his decision to leave the job because of not getting his salary on time. Employees have a right to take this decision when they have signed an employment contract with the company in which the date of issuing salary is specified. Even if it is not specified, employers should shoulder the responsibility of paying everyone on time.
For many people, it is not a serious issue to resign from the job. However, it does become a problem when an employee is already going through a financial crisis and his salary is late.
What is the purpose of this letter?
Writing the letter to quit the job because of the late salary gives a message to the company that people will eventually leave if they don't care about them. This way, the company will give priority to its workforce.
An employee also finds a letter as an opportunity to move out of the job which takes his mental peace away and gives him more stress.
Tips for writing the resignation letter due to late salary:
Use formal tone:
A letter of resignation is always formal because it addresses your boss in it and there is something very serious that you discuss in this letter. Therefore, there is a need to sound serious and formal.
Don't show your anger:
Everyone knows that delay in the salary when you have worked hard is very annoying and offends people. Some people decide to leave their job because of the anger that comes with delayed payment. However, it is never advisable to show anger in the letter as it sounds very unprofessional. In addition to it, always remember that you will need references from your boss in the future. Therefore, don't burn all the bridges and show some patience.
Be sure of what you are writing:
There should not be any confusion when you have decided to step down. When you are clear to yourself, you write the letter clearly and leave no room for your boss to think of dual meanings. You should know if you are ready to be convinced by your boss to not leave your job.
Give a reasonable notice period:
Some employees lose their pending salary and other funds that they are supposed to receive at the time of departure because they don't give notice of reasonable time. If you don't want to lose your money, make sure you give notice for a considerable amount of time. This way, you will be able to show the professor's attitude that will be remembered after you have left.
Below is a sample letter that will give you an idea about writing a resignation letter in the situation when your salary is delayed and there is no solid reason behind it.
Sample letter:
Subject: Resignation letter due to delay in salary
Respected sir,
I have written many emails to you regarding my salary which has been helping me up for 3 months. I was very stressed out because of not getting payment since I have lots of responsibilities to fulfill. Despite telling you several times about my financial situation, I was unable to get any response from your side.
Considering all that has been mentioned above, I have decided to quit my job. I have worked for this company for more than 3 years and this has never been an issue. However, the past 3 months have made me suffer a lot. Therefore, I have decided to not endure this kind of suffering anymore. Please accept this letter as formal resignation from my side. My last day at this job will be on 21st June 20XX.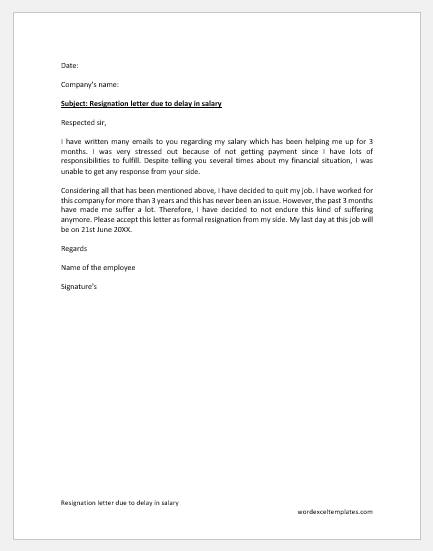 File: Word (.docx) & iPad
Size 22 KB
See also: