The foundation of a business mostly lies in trust. When a relationship of trust is developed between the business and its clients, the business grows rapidly. Trust usually develops when both parties are upright and know the importance of committing and then fulfilling those commitments.
When to write the reply letter to those who don't fulfill commitments?
There comes a situation when it becomes extremely important for a service provider to meet his clients. There are lots of things that are required to be discussed in the meeting. For this purpose, you might have asked your client to meet you in-person. Sometimes, the client also asks for a meeting. However, the client does not show up on the specified day. This makes the client lose his credibility. In this situation, you can write a letter to your client.
Why the reply letter to the client is written when he does not fulfill the commitment?
Companies or individual service providers always reply to their customers and clients because they know that communication is the key if they want to make their business successful. Due to this, they never let the communication die and reply to every email and letter of the clients.
Sometimes, clients request the business or service providers to meet them in-person. For example, if you are a consultant and you render consultation services, you might have been asked by your client to take some time for meeting with you. Sometimes, some clients don't bother to fulfill the commitment and don't visit you on the promised day. Such clients are replied by the business by writing a reply letter. The basic purpose of writing this letter is to let the client know that his non-serious attitude has been noticed by you and you are not happy with this behavior.
Tips for writing this letter:
As it has been told earlier, this letter holds a lot of importance for a business. Therefore, a business must consider writing this letter by ensuring its full effectiveness. Here are some tips:
Although you are unhappy with this behavior of your client and you writing this letter to express your unhappiness, you can never go beyond certain limits especially when you are writing a business letter. Therefore, you are needed to make sure that your tone is professional, and you have chosen a reasonable way to express your anger.
Keep the letter brief and to the point. For this purpose, add some pertinent details in the letter that can keep your letter short and comprehensive at the same time.
 Make the reader know how he has not honored his commitment. You can explain this by adding certain details to the letter.
Tell the reader when he did not fulfill the commitments; he caused a lot of inconvenience to you. You can explain that in what you way you have suffered from the non-serious behavior of the client. For example, if you canceled your important appointments just for meeting with the client, tell your client about it
Talk about the consequences of the non-serious behavior of the client. For example, due to this non-serious behavior, if you think that you might not be able to meet that client again in-person and you are only willing to him over the phone, mention this in the letter.
Provide your contact details at the end of the letter where your client can contact you. 
Sample letter:
To: Mr XYZ
Date: ——————
RE: Failing to meet commitment
Dear (name of the client),
This letter is being written in response to your message in which you have requested to meet you. You have been asked several times by our company to visit our office during (9:00 am to 5:00 pm) upon your request that you sent via letter. You also showed a willingness to meet with us and gave us a date on which we can expect you to come over. However, on that day, you did not show up and you dishonor the commitment.
We have appointments with many other clients, and we put off some of them because we committed to meeting with you. This behavior of yours has caused us so much inconvenience.
We are hereby writing this letter to tell you that we are not available for a meeting on any date from now onwards. If you want to discuss something really important to us, you can talk to us over the phone. Furthermore, we would like to request you to please fulfill your commitments.
You can contact us on (mention the number) for discussing the matter with us in detail. Feel free to contact us.
Regards,
Your name
Your designation in the company
Your signatures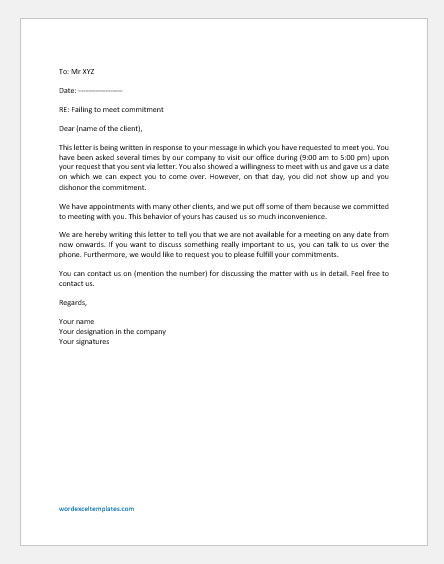 File: Word (.docx) 2007+ and iPad
Size 21 Kb
Download
---