It is important to properly navigate any relationship with some other business as this can help your organization out. Important communications, like proposal acceptance letters, may help develop good working relationships with other businesses. When a company may enter some contract with another vendor, it is helpful to know how to make a proposal acceptance letter.
A proposal acceptance letter tends to be a formal written communication that one organization gives to another. It confirms interest in the contracting services. The letter is positive in tone.
A proposal acceptance letter tends to be important as it protects an organization and develops a clear sense of direction that you and the new service provider will take. The letter can be kept in the records of the company of an interaction that has happened with a third party. If there is any dispute, accurate documentation can help in handling the issue.
The letter can tell of any discussions and meetings that need to be held before completing paperwork. The letter shows respect for the service provider. It lets one tell their hopes for a smooth working relationship to occur.
If you need to create a proposal acceptance letter, make sure that the reader takes it seriously. The following tips can be kept in mind when drafting it:
Format of the letter: The letter can look professional if it is sent on the organization's letterhead. The format can be one where the margins are 1 inch all around. Choose a legible font like Times New Roman, Arial, etc. The size can be 12 or 14.
Contact details: The top of the letter must provide contact details. Give your name, title, contact number as well as and email address. Those who do not have a company letterhead can tell the name of the company and its address. After this provide the date. State the recipient's name, title, and also the company's name plus address. You will then address the recipient. Do this with "Dear" or you may only use their name.
Body of letter: The purpose of the letter should be clear. Tell the reader of their proposal's success immediately. You can briefly tell the main reasons why you selected it and praise their work. This can be the first paragraph. In the second paragraph, state any matters you have to resolve before signing a contract. You may tell if you want to hold a meeting or whether there are any documents that your company needs to get. Tell me how the business can contact you so that they can follow up on the letter.
The last paragraph should thank the business for providing a thoughtful proposal. Express your desire for a prosperous partnership. The paragraph must be brief and act like a positive and also polite conclusion to the proposal acceptance letter. You can conclude the letter by having a formal closing. You can employ "Sincerely", etc. for instance. Provide your signature.
Proofread: It is important to make sure that the letter does not have any typos. The letter must be sent to the right recipient as well.
A proposal acceptance letter is an important one that an organization should know how to draft. The letter depicts the professionality of an organization. You must make it formally and professionally so that it gives a good impression of your company.
Sample proposal acceptance letter:
(Company Address)
Dear (name of the recipient),
I am writing this letter on behalf of (tell your company's name). I am happy to tell you that we accept (Write recipient's company)'s proposal. (Give the reasons why you accept the proposal).
We hope to start working with you on (tell the date). We would like to hold another meeting to discuss (tell your concerns). Please contact us at (tell how they can contact you), so that we can arrange the next steps.
It has been wonderful working with (give recipient's company name). We hope to continue being impressed with your hard work and commitment.
Yours sincerely,
(Tell your name)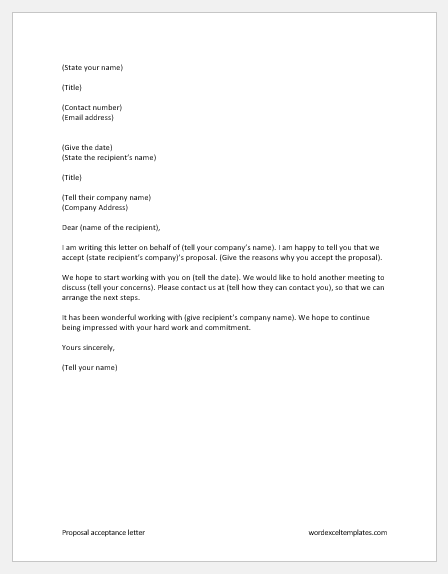 See also: