What is an insubordination charge letter?
Every person who is hired by the company is responsible to be obedient and compliant. Even if the employer does not address this requirement, it is very common for people to understand this. However, some people don't behave well, and therefore, strict action is taken against them.
An insubordination charge letter is a type of formal letter that a supervisor writes to his/her employee to let him know that his non-compliance with the policies of the company is offensive and therefore, he is being charged with the penalty.
What should a defiance charge letter do?
The purpose of writing this letter may vary from company to company. For some companies, this letter acts as a piece of information that lets the employee know that charges of defiance have been pressed against him. For some companies, this letter also serves as a warning letter for the employee as the employee can feel that his attitude has offended the employer and he is unhappy with his behavior.
How to write the charge letter for showing non-compliance?
You should be able to write a letter that can have a huge impact on the mind of the reader. Therefore, follow the guidelines given below:
State the disobedience you have seen:
As soon as you start the letter, make the reader know that you have noticed that he has been acting rudely and his reckless way of working is offending everyone in the company. If there is something specific to describe as an incident, don't forget to mention it in the letter. After reading the starting paragraph of the letter, it should be clear to the worker that charges of misbehavior have been pressed against him and he will mentally prepare himself for the penalty.
State your viewpoint:
Employees often show poor attitudes at the workplace because they feel that the company does not take serious action. So, this letter is an opportunity for a manager to communicate his or her point of view regarding those who recklessly breach the policies of the company and don't take them seriously.
The tone of the sender in this letter should be straight and serious and it should convince the employee that something serious has happened.
Mention your action plan:
After you have mentioned that there are charges pressed against the employee and the employee has been proven to be guilty, you can state what you are going to do. This part should be clear and easy to understand. If you have decided to teach the lesson to the worker by imposing a fine on him, you should mention the amount to be paid by him as a penalty and what procedure he should follow.
To learn to write an effective letter, follow the sample letter that has been given below. This sample will help you effectively understand how you can write a letter that stands out.
Sample letter:
Subject: Charge letter for showing defiance
Dear Mr. ABC,
This charge letter is the continuation of the previous charge letter that was issued to you last month on showing willful insubordination. You have been behaving badly for the last couple of months during the office working hours with your colleagues. You should keep in mind that demonstration of any kind of subordination without any solid reason is unacceptable by the company and therefore, it will be dealt with strictly. Moreover, the company has plenty of proof against you that shows that your insubordination was entirely a deliberate action.
The company has carried out an inquiry and it has turned out that all the charges of disobedience were true, the company is compelled to terminate you from the company as this is not the first time you have been seen showing non-compliance. 
However, the management has decided to afford to give you another opportunity to work on this post and improve your behavior. You are being imposed the fine of Rs. 2000 that will be deducted from your salary. 
Feel free to contact me if you want to know more.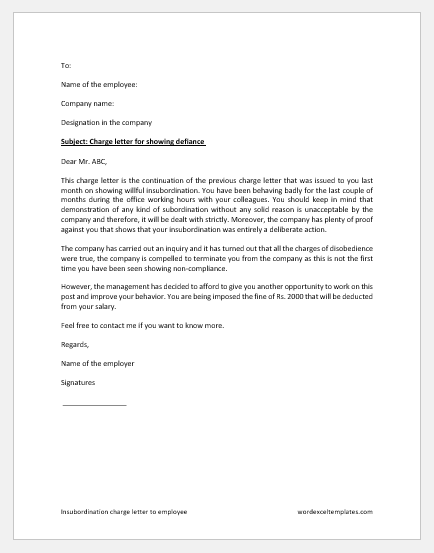 File: Word (.docx) 2007+ and iPad
Size 23 KB
See also: