People who regularly buy products from a brand eventually develop trust and a strong relationship. Owing to this, they get the entitlement to apply for buying products on credit. When products are purchased on credit, the customer saves himself from having to pay individually for every purchase.
There may be many issues such as lack of money or unavailability of cash that may hinder the customer to complete the process of buying a product. Therefore, they choose to write the credit application letter in order to request for getting permission to buy things first and pay later.
What is a new credit application letter to customers?
Usually, a customer writes a request letter to a business and asks for the opening of a credit account. In some cases, the business also writes this letter to customers when it wants its buyers to buy products without paying on the spot.
When to write?
Now the question is what makes a business write this letter. There are certain situations and some of these are given below:
When a customer has requested the procedure:
A common situation is when customers request a business to provide them with the information about the entire procedure of getting new credit. In response to the letter or email from the customer, the business replies with this letter and attaches an application form so that the customer can fill it out and initiate the procedure.
When sales of a business are reduced:
Oftentimes, a business realizes that its sales are declining because it does not offer its products on credit, and people who cannot pay immediately switch to those brands that provide them with the opportunity to pay later. So, in order to inform the buyers that buying products with the intent to pay later is possible now, they write this letter.
How to write?
In order to write a letter that is professional and addresses important details in an effective manner, you can follow the tips given below:
Start the letter with admiring the buyers:
As soon as you start the letter, admire the customer for being a loyal buyer and for staying with the company despite the fact that there are many options available. Express your plans to serve the business with better services. This part of the letter pleases the buyer and makes him feel valued. For a business to be successful, it is very important to give due value and respect to purchasers.
Ask the customers to fill out the form:
If you want shoppers to start buying products from you on credit, ask them to fill out the form that you have attached with the letter. Describe that filling this form will be considered as a request from consumers to make some purchases from the business without paying on a spot.
Develop trust:
If you know that the consumer might not be comfortable sharing personal information by filling this form, tell how you are intended to use the shared information and what steps you will take to keep the information protected. 
Sample letter:
Subject: New credit application for [X]
Dear value customer,
We are so pleased to know that you are interested in our company and it has always been our topmost priority to serve our customers with the best services.
It is our humble request to our respected customers to submit a credit application. After receiving this application, we will be in a better position to offer our products at the best-discounted prices. We are cognizant of the fact that the information we require from you is a bit sensitive and you may not be comfortable sharing it. However, we collect this information from all our customers. In addition to it, we always take care of this information. It is our top priority to save you from having to pay a higher price just because of the bad credit of other people.
We have enclosed an application form in this letter that you are requested to fill out at your earliest convenience. This way, we will be able to process the information in a better way.
We are looking forward to a humble response from your side.
Regards.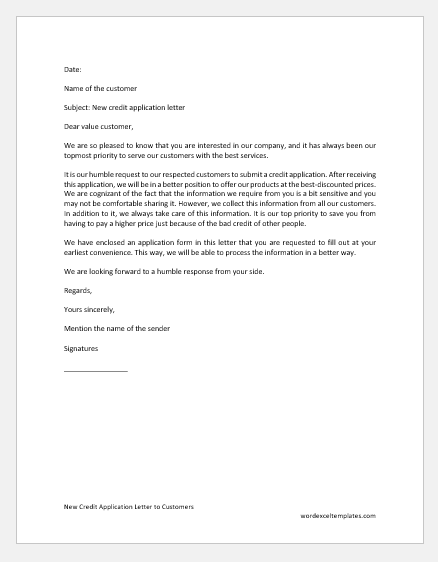 File: Word (.docx) & iPad
Size 22 KB
See also: