It is a basic right of human beings to apply for a certain type of workplace accommodations whenever they feel it is required. For instance, when an employee is suffering from a chronic disease, he can request a privilege.
It is a formal letter that a person writes to his/her boss whenever he or she has a chronic disease of any type. We often suffer from certain diseases that don't allow us to go to work. However, some people cannot stop working because they cannot survive without working.
Writing the request letter:
For some people, it is a daunting task to write a request to their employer because they don't know how to bring the request in writing, and therefore, they often fail to convince their employer into accepting their appeal. Read some tips given below and see if it works:
An appeal in a straightforward way:
Since your sole purpose is to get the approval of your appeal, you should not shy away from making the request. The request should be plain and simple and the reader should be able to understand clearly that you are asking for his permission to work remotely.
Describe your illness:
The employer always wants to know the reason that made you write this letter and ask for permission to work remotely from your residence. Therefore, describe clearly that you want this request to be approved because you are sick, and then, explain what kind of illness you have and why it makes sense to ask for the permission with this type of chronic illness.
Employers generally take chronic sickness seriously and they are more likely to understand your position. So, always explain your chronic illness and tell why you are not suitable to work in the office environment.
Explain how you will manage things:
After reading your request, the first question that might pop up in the mind of the employer can be how you will manage all the things that you are responsible to do when you will not visit the office?
Plan and know all the answers that you need to give to your employer. Tell him that you will manage things smoothly and your problem will not affect the company at all. Mention how many hours you are ready to work.
Also, tell the employee that you will be available for correspondence. To give strength to your point of view, mention the view of your physician regarding your illness and going to the workplace with this chronic sickness.
End positively:
It is very important to end the letter on a positive note. This also helps you convince your boss into accepting this letter and approving your plea. Express your positive hopes and expectations from your employer. In addition, assure him that you will be back in to saddle after the defined period.
To comprehend the letter in a better way, read the sample letter given below and see what difference you can bring to the letter you write after reading this sample. 
Sample letter:
Subject: Work from home request due to illness for [XYZ].
Dear Sir/Madam,
I would like to let you know that I have been suffering from chronic kidney disease for the last couple of years. As the time elapsed, my illness worsened and now, I cannot come to work due to severe pain in my back. I am unable to come to work due to my illness unless I am completely cured.
My doctor has told me that my health condition is not good enough to work in the office environment and I should either resign from my job or request my employer for permitting me to work from home.
I understand that these days, there is an immense workload and you might find it hard to allow me to not work in the office. I am confident that I can manage my work from home if I work on my laptop for a few numbers of hours. I assure you that I will be available virtually as and when you need me.
It is a humble request to you to please allow me to work from home for 16th April 20XX to 26th April 20XX. I assure you that I will be back to a routine office environment after these ten days.
Kindly accept my request and allow me to work from home for the said duration. I am looking forward to your kind response
Regards.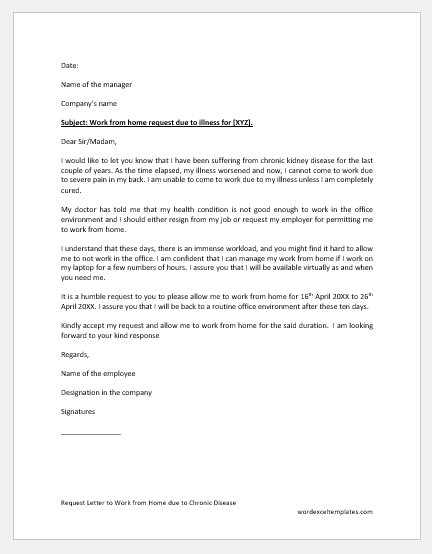 File: Word (.docx) & iPad
Size 23 KB
See also: