Offices and organizations, no matter what their operational magnitude is, require all their staff members to ensure a full presence on their respective seats throughout their working tenure. This responsible presence on the part of staff members is what in turn determines the smooth working and success of that organization.
However, owing to personal reasons and other engagements people have universally, staff members sometimes cannot ensure their presence in the office no matter how hard they try. Under such circumstances, the organizational management is liable to allow their staff members to skip a few working days. Under the globally understood procedures, the staff members are supposed to seek permission prior to their absence if they are aware of what engagements are going to keep them busy.
A staff member is supposed to write a leave application to higher authority filling in the reasons behind asking for a leave. Each organization has a predetermined fixed number of days as their acceptable leave duration. Some staff members first get their leave for a shorter time period approved and then send another application to get their leave period extended. Such members asking for leave more than fixed days have to be told off because their long absence can bring huge losses to the office.
If you hold a reputable position in your office, you could be at the receiving end, getting staff members' applications to extend the duration of their leave days. Under such circumstances, you are left with no option but to politely reject their application to allow them with an extended leave period. The best way to do so is to write them an official letter, that you can later show as proof if needed.
Here is a sample of a letter written for the same purpose. With the theme of the given letter being the same, you can make minor edits in it to suit your organizational needs the best.
Sample Letter
To,
Mr. XYZ,
[ Department / Organization's Name]
Subject: Letter rejecting extended leave period.
Dear Mr./ Mrs./ Miss,
I hope this letter finds you in good health and are enjoying your leave period. I am writing this letter to inform you about our inability to accept your second leave for an extended duration. I am hopeful that you are fully aware of the rules that don't allow me or any other head of the department to allow an employee with more than 15 days of leave unless there is a medical emergency. You have already had a two-week leave that has negatively impacted the department's working capacity. 
Your presence is being felt at every stage of our official affairs because your responsibilities in the office cannot be fulfilled by any of the other staff members with the same amount of precision.
I, therefore, request you to join back the office from the coming Monday after finishing the time period under your already accepted leave application.
I hope you will understand the official regulations and will abide by them too. Hope to see you on Monday.
Best regards,
XYZ.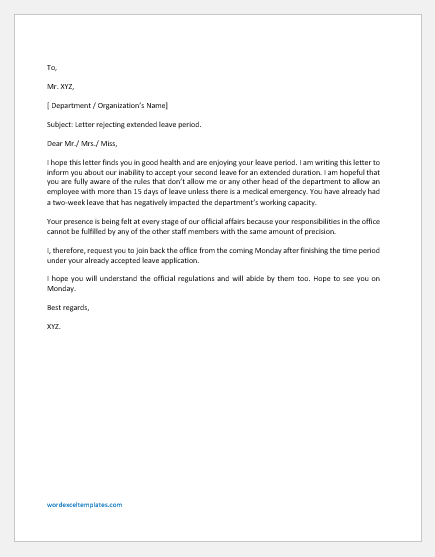 File: Word (.docx) 2007+ and iPad
Size 18 Kb
Download
---