Big offices and organizations usually turn in performance reports of all their employees either on a monthly, biannually, or annual basis. These performance reports are generally prepared after keeping an employees' overall performance in view throughout the time period under view. Such reports usually come in the form of detailed feedback from the employer and can be both positive and negative.
Getting negative feedback on your poor performance is certainly a heart-wrenching event. A poor performance report not only ruins your reputation and hurts you as an employee but also affects your chances for promotion too. However, once submitted there is nothing you can really do about such a report except keeping yourselves composed enough to accept your mistakes and move on.
The way you respond to a poor performance report matters a lot for your future reputation in your officers' eyes. As a responsible employee who wants to learn from his mistakes and never intends to display carelessness at his workplace, the only good option you are left with is to write an apologetic response letter to your officers. Your response is proof of how seriously you take your work-related matters and shows your readiness towards bringing about a positive change in your work ethics.
In the case of receiving negative feedback on your poor performance, you should immediately write a letter to your boss expressing your apology for ascertaining him of your better performance in the future. Given below is a sample letter that you can use for responding to negative feedback on your performance.
Sample Letter
To,
Mr. XYZ,
[department/role in the organization]
Subject: Response letter for poor performance's notice
Respected Sir/Ma'am,
I hope this letter finds you in good health. I am writing this to you in response to your feedback on my poor performance in the office that I have just recently received. First, I would like to offer my apologies for not coming up to your expectations. I completely realize how much of an inconvenience my poor performance during the past few weeks would have been for you and for my other co-workers. I want to assure you that I have carefully read your detailed feedback and your concerns regarding my poor work ethics. I have no other option but to accept that all the points highlighted by you are matters of serious concern that I should not have ignored at any cost.
I am very sorry for my terrible carelessness and the loss caused to the organization because of me. However, I want to assure you that I have recognized my mistakes and will try my level best not to exhibit such a careless attitude ever again in the future. Being lucky enough to have been blessed with another chance, I promise to never repeat the same mistakes in the future and to give my best possible to the organization in the future.
I apologize, once again, for disappointing you and hope that you will be kind enough as always to let go of my mistakes.
Best regards,
XYZ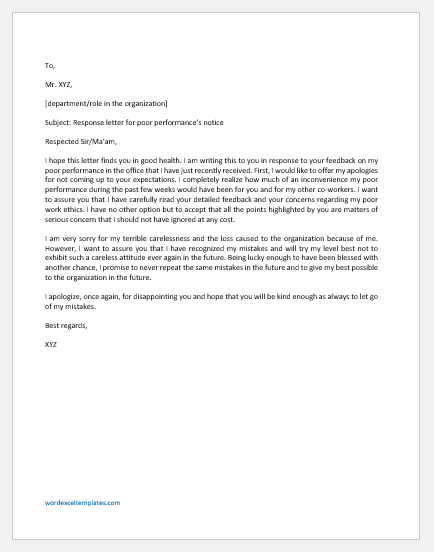 File: Word (.docx) 2007+ and iPad
Size 19 Kb
Download
---