An application for working as a freelance writer is written to the hiring company, software house, tech company, or website management offices. A freelance writer writes and edits articles with high accuracy and subject relevancy.
A freelance writer communicates with the clients and contractors liaising them with content production. Freelance writing is done in some specific areas fulfilling the duties of generating articles, books, or reviews of products on the basis of the project given. A freelance writer collects relevant data and information about the area going to be researched. He/she crafts project related aspects along with language-specific areas i.e. considering the diction and terminologies of those subject languages.
A freelance writer needs to be competent enough to fulfill the following responsibilities and duties:
Collecting data and information on the relevant subject/project considered
Updated usage of grammar
Framing and crafting the drafts
After complete writing, editing, and proofreading of those articles
Consider the conceptual errors and other errors like grammar, spellings, and structure
Editing and proofreading of the articles written by other freelancers
Maintaining the reports and submitting them to the editor in chief or other authoritative people
Capable of doing effective and thematic research on the projects and contracts
Generating a written outlook creating an excellent market influence
Qualification required for a freelance writer is a bachelor's or master's degree in English language, Journalism, Mass Communication, or a higher diploma in Technical Communication and Writing. He/she should be well literate in Grammar and Language usage. He/she should know different methods of writing and structure development. While writing an application of this kind, do not forget to mention these skills and writing expertise along with qualifications and relevant working experience.
Following is a sample application of such type and can be used:
Sample Application
Re. Application for the job of Freelance Writer
Dear Alison,
I am Nicholas Nile from Starbuck Street 11, Brooklyn, New York. I aim to present to you my skills and qualification considering me eligible for the vacant position of Freelance writer in your company.
Talking about my qualification, I did my bachelor in English Language and Diction from The University of Yorkshire where I studied the English Language, its mechanics, grammar, and diction. For the last two years of my degree, I also remained attached to the research department of the university writing research projects and blogs. I was also vice president of the writing club of the university and worked in writing and editing university research articles for one year.
After my bachelor's, I started working in a community college as a content writer. Afterward, I started working for a writing club where I wrote project-related content, newsletters, cover letters, and contents for the websites and for the achieved contracts.
I am glad to inform you that I fit the eligibility criteria and the required qualification, working experience, and skills. While my education, research, and working, I learned and polished my skills in communication, structure, and stylization of contents and technical writing.
I am capable of working under pressure and stricter deadlines. With the sound knowledge of grammar and subject terminological information, I am capable of writing, editing, and proofreading various subject projects.
As this vacancy belongs to the company that works on mental health and education of children and adults, I am delighted to mention that I have worked on the subject of health and education for two years. Furthermore, my six months' short course in basic computer literacy would help me working online from home.
I have enclosed my required documents with the application
Thank you
Sincerely
(Signature)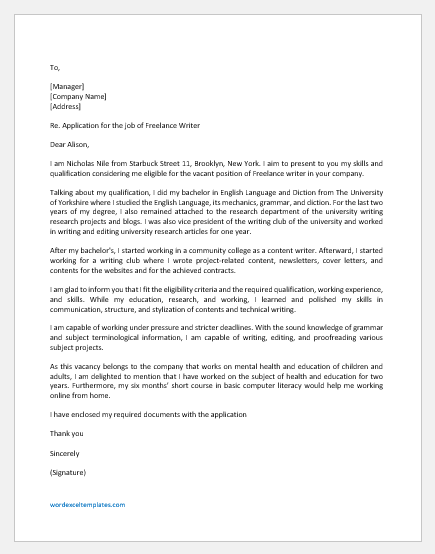 File: Word (.docx) 2007+ and iPad
Size 21 Kb
Download
---