Attending class is necessary if you want to pass. Classes are important and help students understand the topic. A teacher takes out time to arrange these and attend them. If you are not able to attend a class you must inform your teacher.
What is a letter to the teacher to excuse from class?
The letter to a teacher to excuse a student from a class is the letter that the student will need to send to their teacher when they cannot be present. The reasons for not being able to attend should be valid.
If you do not want to give a bad impression of yourself to your teacher then you should tell them that you cannot be present. It shows that you are serious about your studies. The teacher needs to know if you will not be there.
Tips to writer the letter:
When composing the letter to your teacher to excuse yourself from a class you need to remember that it is a professional letter. The following points should be looked at:
Inform your teacher in time
Email the teacher some days before missing the class. Do it as soon as you can. This will show that you consider the class as important.
Concise words
Choose clear and concise words when writing the letter. You should be polite. Only include the necessary information. You do not have to write a long story. The teacher does not have time to read this. They will be annoyed with it. Simply tell the reason why you cannot attend the class. It may be because you need to attend a funeral, go out of the city, go to the doctor, etc.
Apologize and be sincere
Apologize to the teacher so that they know you are sorry for not being able to be present. State that you will make up for any work that has been lost.
A well-constructed along with the grammatically correct email will make a good impression. It will show that you are respectful of your teacher's time.
Sample Letter
1-
Re. Excuse for the Absence from Class
Dear Edith,
This letter aims to inform you about my absence from the class on 20th April 20XX to 21st April 20XX. I am a grade IX-D student, Noah Salvatore, roll number 009. I am suffering from a bad throat and a mild fever with severe headaches. Due to my illness, I am unable to come to school and attend the class.
Due to my illness, I asked for two days' leave which has been approved by the Assistant Coordinator of the school. I also request you to extend the date of my assignment which is due by 24th April. Due to my bad health, I am unable to work on the assignment and request an extension.
I also promise you to submit my assignment in next week and catch the missing homework and classwork, once I get fine with my health. I shall be grateful to you if you kindly excuse my absence and extend the date of the assignment submission.
Thank you in anticipation.
Sincerely
Signature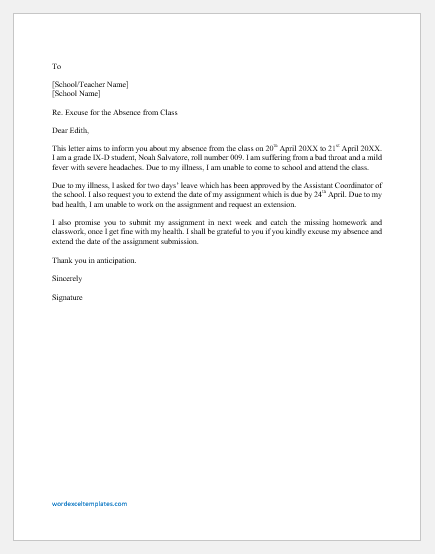 File: Word (.docx) 2007+ and iPad
Size 21 Kb
Download
---
2-
Re. Excuse from Class
Dear Noah,
I am Soah Esq, roll number 564 your student in grade X-B, in HIC High School, Coventry. My major is Applied Mathematics. The school administration has proclaimed a convention on Applied Mathematics tomorrow i.e. on 20th April 20XX. I was assigned a research article to be presented at the Michael Hall, to brief the convention to the whole class. I was prestigiously glad to be one of the lucky students who were selected for this task. I was completely ready and enthusiastic to present the article to the class but in the meantime, I met urgency.
I had applied to the University of East London for my graduation after high school. The university has called me for an interview in the Department of Applied Mathematics. I have to visit UEL, London for my interview and pursue the prerequisites for my admission.
To visit the mentioned place, I need to take one day's leave from the school and avail of this opportunity. To present the presentation, another bright student, Sherley, who was vehemently willing to present it, is consented to take this responsibility. I hope, you will not mind my absence from tomorrow's class knowing my compulsion to visit the other city.
I have also sent the collected data on the presentation to Sherley who will present it tomorrow. If you want to extend the date of presentation that can also be regarded as fine; I shall be available for the presentation just after my interview in UEL. I shall be thankful to you for this favor.
Thanks in anticipation
Sincerely
Signature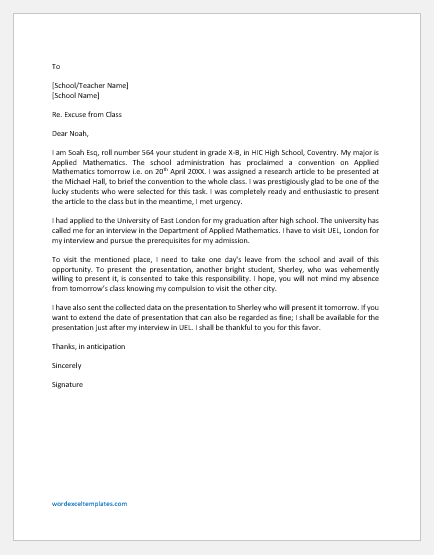 File: Word (.docx) 2007+ and iPad
Size 20 Kb
Download
---