Advancements in technology have played a huge role in changing the ways in which official correspondences take place. Nonetheless, a limited course of communication between organizations and their customers still has to be carried out in conventional ways even when the presence of technology has eased the ways in which they happen.  
One such example of official correspondence being carried out in a conventional manner is between banks and their customers. Even after the normalization of email culture, banks constantly like to send their customers' statements and credit card bills to their home addresses to ensure privacy and security.
This puts pressure on the customers to provide their banks with their detailed, precise, and exact addresses so that their financial details do not mistakenly reach someone else. In many cases, where people change their home address and forget to notify their banks about such a shift, their financial details reach someone they are not meant for and this sometimes ends up with the customer finding himself or herself on the horns of a dilemma.
It is, therefore, always advisable to notify your banks and other finance-related organizations about the change in your address as soon as possible. This can be done by sending them an email but the most suitable way of doing this is by writing them a letter and posting it directly from your new address. This way, your bank manager gets assured of your address's update and makes necessary changes to your file in an accurate manner.
Given below is a sample of a letter written to a bank for the purpose of getting your address updated. You can edit it to suit your purpose and send it to your bank to save yourselves from possible future troubles. 
Samples
1-
With reference to my savings account number [#] in your bank, I would like to inform you that I have relocated to a new address. I request you change my address in your records. My new address is House 10, Street ABC, 1 Housing Society, Islamabad.
Kindly make all future written correspondence to the above-mentioned address. Thank you for your cooperation.
2-
I am Jane Doe, an account holder in ABC Bank for the last 10 years. I am writing to bring to your notice my change of residence. Kindly update my records accordingly for all future emails.
Here are my details for reference. My account number is [##]. I have enclosed my address details along with copies of my updated ID card and other relevant documents to complete the formalities required by the bank for updating my information.
You may contact me for further information. Thank you for your time.
3-
To,
The Senior Branch Manager,
[Name of your Bank]
Branch's name and code
Subject: Request letter for an address update.
Dear Mr./ Mrs./ Miss,
I hope this letter finds you in good health. I am writing this letter to request you to change my home address in your records on an urgent basis so that further official correspondence meant for me reaches me in my new place. I have been banking with you for the past 2 years and my Bank account number is [X].
I have been receiving all my bank statements and bills on time at the address I shared with you at the time of getting my account opened. However, now I want to bring to your notice that I have shifted my residence to the Park Lane area in South London and want all the official statements and letters to reach me at my new address.
I have given my complete address at the end of this letter and I request you to kindly update it in your record register before the next month starts.
I hope you will understand my concern and will make sure to send my next statement and bill to my new address.
Here is my complete address: House no. X, Street [XX], Capital park lane, west, P.O.BOX. number 42560. Nearby, Hilton Hotel, South London.
Best regards.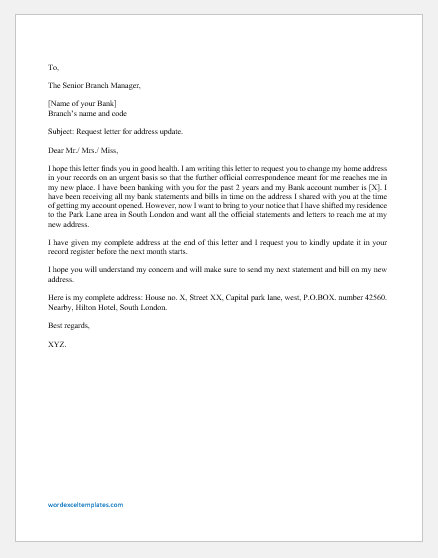 File: Word (.docx) 2007+ and iPad
Size: 18 KB
More letter templates…