As an individual or even as someone working in an organization getting a contract from a client is a big deal. Signing a contract means you are responsible to provide your client with the best possible services and keep all their demands from your project in view. Once signed, you are usually in no power to end the contract and are bound to carry out the tasks as per the schedule provided by the client.
Most of the contracts require the services' providing party to keep their client posted about the progress of the assigned project. Even when it seems like a daunting task, keeping your clients updated with the progress of the project is useful because they can ask for the needed modifications all along the way. This is better than your client bombarding you with those after you are done with the task.
However, in some cases, the client may terminate the contract instead of requesting modifications owing to his dissatisfaction with the quality or speed of services being provided. Such termination can also come from your boss who is simply removing you from the assigned seat and hiring someone else instead.
In any case, receiving a termination letter regarding any contract is something not very favorable for your overall profile as an employee. The only way to save yourself after receiving such an unpleasant termination letter is to respond to it in a sensible and pragmatic way. Instead of pouring out your sentiments, you should acknowledge your flaws and must assure the terminating party of your ability to come up to their expectations if given another chance. 
The most suitable way to send such a measured response is through sending a brief, yet promising, response letter to the one who terminated the contract. Here is a sample response letter on the termination of your contract that you can rewrite or edit to suit your purpose in the time of need.
Sample Letter
To,
Mr. XYZ,
[ Organization's Name]
Subject: Response letter for termination of contract.
Dear Mr./ Mrs./ Miss,
This letter is my response to your letter regarding the termination of our mutual contract that I have just received. As much as it has shocked me, I must admit that I am sorry for not being able to come up to your expectations despite trying very hard. I have gone through your termination letter and have carefully understood the reasons that led you to end our contract that both the parties held equally dear.
I, however, acknowledge that there were some huge mistakes on our part but want to assure you that none of those was intentional. I and my team have sacrificed their blood, sweat, and tears to bring your project to the point it is today. I, therefore, request you to reconsider your decision regarding termination and allow us once again to work on the project in a way you desire.
Your kind consideration would surely be a great source of motivation for my workers who were really enjoying working on this project.
Best regards,
XYZ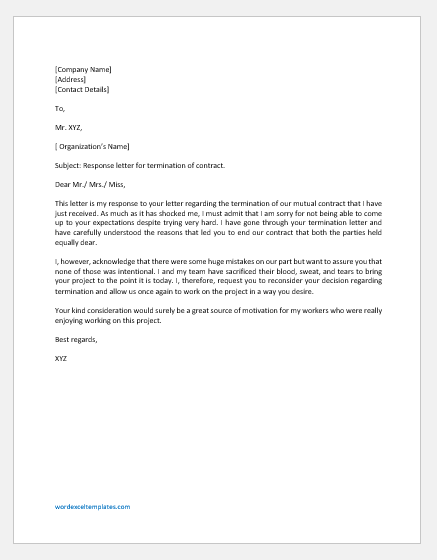 File: Word (.docx) 2007+ and iPad
Size 19 Kb
Download
---