An application for working as an English as a Second Language (ESL) or English as a Foreign Language (EFL) teacher is written to the school, academy, college, or university asking for an eligible candidature. For such jobs, eligibility criteria appear to be the following
Sound knowledge of the English Language
Sound knowledge of the other (native) language
Organizational and communication skills
Should be able to go through made outline and complete it within a given frame of time
TEFL, CELTA, or TESOL qualified
Full grip on the methodology
Should be able to make and implement the specified patterns of learning
Teaching through practical learning and encouraging the students to learn the language
Also be able to follow the policies, national and regional both, for teaching foreign or second language
ESL teacher should assign course work, homework, assignments and presentations, and conduct tests and trials
An ESL teacher needs to keep up with following responsibilities bridging above mentioned demands;
Interact and communicate with the students properly and effectively
Prepare a good ambiance of learning in the online classroom
Prepare a well-maintained course outline for the students keeping in mind the students' competence
Assign homework, assignments, presentations, and conduct exams through gradation
Be supportive and optimistic enough
Maintain students' attendance and progress reports
Inform students' learning progress to their parents
Well collaboration
While writing an application of this kind, don't forget to mention your skills and communication expertise. Candidates must write their qualifications, basic learning of the computer, career objectives, and experiences along with skills needed for the job from home.
Following is an application sample of this kind and can be used likewise:
Sample Application
Re. Application for the job of English as a Second Language Teacher
Dear Stephan,
I am writing this application to you apropos to the declaration of a few vacancies in The News on 20th April 20XX. I am lucky enough to reach to you writing this application. I intend to convey my data considering this worthy job opportunity. I am Nathan Astley from [X] Smoke Town Residency. I did my graduation in the English Language from Government Sacred University, [X], [X]. After pursuing my degree, I did my three months' diploma in Communication and Interacting Foreign Students through English Program from the same university. After that I did a one-year diploma is TEFL (Teaching English as a Foreign Language) also known as TESL (Teaching English as a Second Language) from International College of Modern Languages (ICML).
After my studies, I started working online through Fiverr as a translator. Being bilingual, I was capable of translating scripts and audios from [X-language] to English and vice versa. I worked through Fiverr for three years and actually enjoyed it a lot. Afterward, I realized the compulsion of having a permanent job and started my work as an ESL instructor in Government Sacred University (GSU) Nile Campus. I worked there for two years and learned a lot. My job nature was contractual which ended in March 20XX.
I present myself as an eligible candidate and full match to the eligibility criteria. I am also a computer literate which is a plus for conducting online classes from home. I am a dedicated and sincere worker which is clearly mentioned in my experience certificates. I can prove my capabilities and intellect on having an opportunity.
I have enclosed my educational certificates, experience letters, and other important documents to the application. I will be glad on having a kind response from you. Thank you.
Sincerely
Nathan Astley
372-CN Smoke Town Residency
[Address], [Place]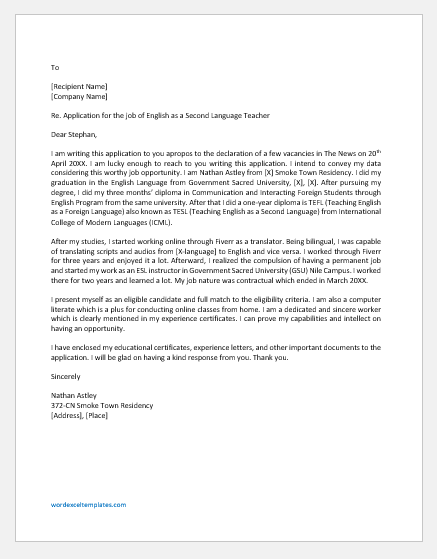 File: Word (.docx) 2007+ and iPad
Size 21 Kb
Download
---