Meetings are common in some workplaces. It is often compulsory for all staff members to attend these. This is because they give important information on the running of the company. There may be some instances when you will not be able to attend a meeting because of some reason.
What is an email to the boss to excuse from a meeting?
The email to a boss to excuse one from a meeting is the email that an employee sends to their employer to ask if they can be exempted from a certain meeting. This email should be sent an appropriate time before the meeting is held so that no disturbance is caused due to your absence.
Your employer needs to know if you cannot attend a meeting. A good impression will not be given if you are not present at it and have not informed your boss. Your boss may want to point you out at the meeting and if you are not there, this causes a disturbance.
You need to add all the necessary details in the email so that your boss knows why you cannot attend it. The following tips can help you compose this email professionally:
Formal style
This is an official email. It needs to be written with a formal style. Starting from its subject line till the closing part, it must be official. The boss should see that you are serious. If you write it in a formal style, the boss will be more likely to consider your excuse.
Be precise
The email needs to be brief. Simply state the reasons why you cannot attend the meeting. These should be valid. You may need to be somewhere else like a doctor's appointment for instance that is forcing you to not be able to be present.
Apologize
I apologize for not being able to attend. This shows that you are taking the meeting as important. It shows that you are serious about the work you do.
Be professional and sincere in your words when you compose this email.
Sample Emails
1-
Re. Excuse from Meeting
Dear Alison,
I am Stephen Shekel and I work as a graphic designer in your company. I hope you are doing great. I aim to excuse my presence from tomorrow's meeting with the Turkish clients. My father had a heart problem last night and he is admitted to the ICU of the XYZ Cardiology Center, Brooklyn. He is in serious threat of life which is at stake as he had been suffering from some other ailments too. I am greatly worried about him. I know my presence has a vital role in tomorrow's meeting as I had been working on the presentation of the contract from the last week. Alison, you must be sure about my excitement and dedication to work on this contract. I wish I could be there to present but I regret to say that I can't.
Further, to avoid any inconvenience, I have asked Mr. Reza Meezo, the Assistant, to present the points of this presentation and I also have sent him all the data regarding this presentation. He is also willing to work upon this and hopes very well. I will be grateful if you, please, excuse my absence and let Mr. Meezo do in my replacement.
Thank you.
Regards
Stephen Shekel
Graphic Designer, CLM Groups.
PP: [X]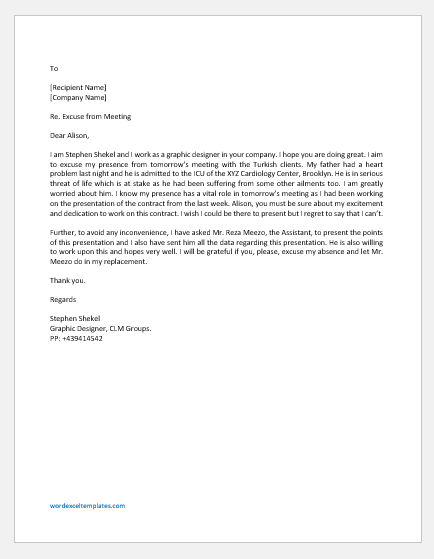 File: Word (.docx) 2007+ and iPad
Size 21 Kb
Download
---
2-
Re. Excuse from Absence from Meeting
Dear Hegel,
I hope that you are doing well. I am suffering from a sore throat which is worst at the moment. Due to this severity of bad throat, I am having a mild fever and body pains. Due to this, I am unable to attend tomorrow's meeting with Mrs. Khawaja from India. I know that it is a very salient meeting to get everything documented. My prime designation in the company also stipulates that I should be present in the meeting but as I am even unable to speak. I shall be very grateful to you if you kindly excuse my absence from the meeting and approve my one day leave too.
My contact number is [X]. I am waiting for your kind response.
Regards
Neil Stark
Group C9, Maskell Groups, and Co.
New York, USA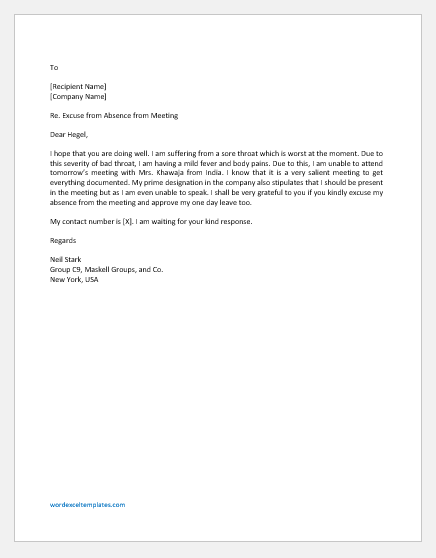 File: Word (.docx) 2007+ and iPad
Size 20 Kb
Download
---