The letter of dismissal for misusing the company's belongings is sent to notify the employee that he has been fired from the company because of his unlawful act. Misusing the company's issued products is clearly a breach of code of conduct and upon inquiry, it may lead to dismissal with no salary and benefits provided.
Generally, if an employee misuses the company's asset then dismissal or termination is conducted only if several warnings were given to the employee before the final incident. In that case, the information on legal notice and other evidence is provided to the employee in the letter.
Sample Letter
[Sender's name]
[Designation]
[Name of Organization]
[Date]
[Receiver's name]
[Designation]
[Name of Organization]
Subject: Letter of termination for misusing company belongings
Dear [Receiver's Name],
The purpose of this letter is to inform you about the decision made in today's meeting regarding your dismissal from this company. The reason behind this dismissal is your unethical conduct and performance which has been affecting our company lately particularly resulting in misuse of the company's issued products.
Everyone from the staff is aware of the rules brought up in accordance with using the company's resources for personal use. They are issued for work-related tasks and procedures which are described under section# [section number] of Rules and Regulation Part. Using the products for your own benefit is highly unethical yet misusing them against the company is outlawed and one can clearly get a dismissal from the company.
Upon reviewing your personal profile, we found that there have been a series of warning letters and addressed issues that stated your misconduct on using the company's possessions for your own good. As a [employee's designation] of this company, you were supposed to set an example for the rest of the staff and lead them in adapting the company's rules. As being their senior, you were supposed to train and lead them, but your behavior became unacceptable for employees to emulate.
As the inquiry took place and the HR department ordered for your dismissal, your paycheck and all the benefits are canceled, thus resulting in complete termination. The rest of your belongings are to be submitted on [date] near the security counter of this building because the company laws prohibit you from accessing nonpublic areas and any other company's resources. Another meeting for your testimony is to be held on [date] which the company's supervisors and other staff members will attend for you to explain and accept your ill-conduct.
You are requested to leave this company in the provided time [Mention time] and expect your belongings in the inquiry meeting on which afterward you can head towards your office and collect your belongings. In order to gain any further information, you may contact the HR manager at [contact number].
Upon this suspension, we hereby declare you a non-member of this organization.
Sincerely,
[Your name]
[Your Signature]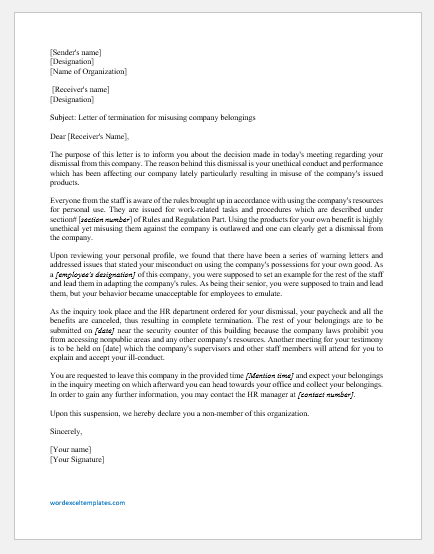 File: Word (.docx) 2007+ and iPad
Size 22 Kb
Download
---