What is commission invoice?
Commission invoice is a commercial file which is issued monthly. It includes all the details related to the commission of the sales representative throughout the month. This may include the details like marketplace fee, or payment gateways, etc. This invoice is a common tool and is used widely all over the world.
Why commission invoice
In any sales transaction, the middle person or the sales representative gets his commission. This is practiced all over the world. After the amount of commission is calculated and the booking is done, the payment of commission is rendered through a commission invoice. This invoice enables the user to calculate the amount manually and without any difficulty. This also motivates the user to pay on time. The invoice makes sure that the payment is made in time and the correct amount is paid.
Template
The best practice is to use a standard format of such invoices as it makes sure that no detail is missed out. The standard format of this invoice is not so different from the other invoices. It starts from displaying the purpose and the name of the related company, organization, or the individual. The standard format of this invoice is in tabular format and the details are mentioned in it. The details include name of the item sold, the percentage of commission, and the selling price of that item. After this, the amounts of taxes, duties or grants are incorporated in the table. This is necessary for the right calculation of the actual amount.
At the end, the total amount to be paid should be mentioned. This is crucial to mention on this invoice that the broker worked on whose behalf, the seller or the buyer. Furthermore, the invoice number and date on which it is to be presented should also be mentioned. Both of these details are mentioned usually at the top of the invoice where it is easily readable. Some invoices, add in the mode of payment as well. At the end of the invoice, signs from both the parties should be taken to avoid issues in future.
Preview & Details of Template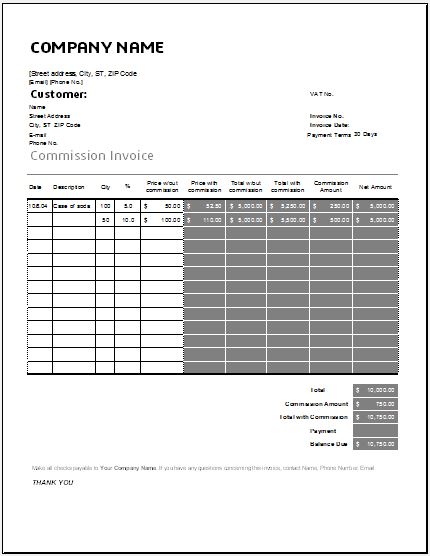 Commission Invoice Template
File: Excel (.xls) 2003+ and iPad
Size 43 Kb | Download
License ENERGY [Personal Use Only]
[Not for resale & distribution]