Credit/Debit Memos
A credit memo form or invoice is a document which serves the purpose of return slip. It is generated by the seller of a product when he wants the buyer to know about the amount of money that he should pay. The main objective behind using this memo is to ensure that the complete transparency in organizing the credits has achieved. The benefit of this document is that it resolves the disputes among two parties.
These memos are also sent by any financial institution to the person when the payment of the person is overdue. A memo enables the people to know the exact date on which they must pay the due money. These memos work and provide the complete assistance to the financial organizations that want to collect funds and unpaid billing amounts from the customers.
A credit memo is usually generated in the form of a letter or an invoice. The seller of the product may send this memo letter or invoice to the buyer in order to remind him to pay him. A credit memo can also be generated when the price of the product has increased, and the seller wants to inform the buyer about it.
Credit Memo Template
The template of credit/debit memo invoice is created for those people who are running the business of providing goods and other customer services to their clients. It is a very useful template when the seller wants to inform the buyer about the due payment. A template for credit or debit memo can be downloaded from this website.  This template is very convenient to use.
With the help of this template, a person can instantly get a memo for his business. This template is perfect and contains all those details which a person may need to inform the buyer about the payment. The template available on this website gives a professional look to a business because of its versatility. You can also customize it according to business needs and strategies. The template not only saves time but also provides complete perfection and accuracy in the document.
Preview and Details of Template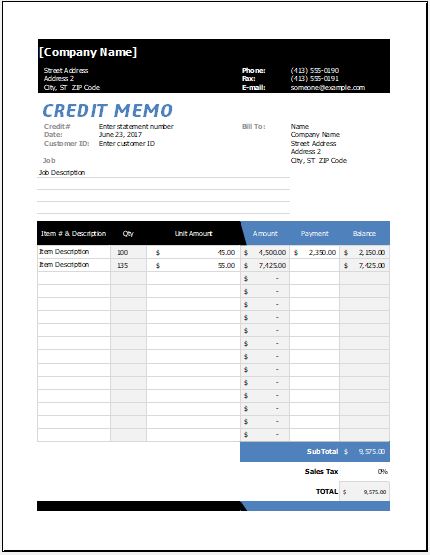 Credit Memo Template
File: Excel (.xls) 2003+ and iPad 
Size 23 Kb | Download
License: ENERGY [Personal Use Only]