Projects & Material List
No matter which type of project you are going to work on, there is always need to know about the material that you will need to accomplish your project. Almost every construction company and firm makes a complete and comprehensive assortment of materials and equipment to carry out the project without any hassle.
Having a full list of material that can be needed for the accomplishment of a project is a good approach especially for those people who want everything to be done efficiently and the project to be delivered on right time.
A material list template with the complete professional look is available on this website that you can download for your business. Material list template is a very useful tool when you want to make sure that everything that you may need to accomplish your project is in your hand. This template makes you do your work correctly and quickly.
About Template
The template is a readymade document that contains all the instructions and guidelines that a user may need while generating a perfect and easy to understand material list for his project. All those people who want their project to be delivered on time and complete perfection in their work can use the template for the material list.
The businesses and organizations believe in the planning of the time before they start working on the project. This makes it easier for them to forecast the budget, time and lots of other details of the project. The planning of the material to be used by a project can be done through a material list.
The material list template also lets the person know if the project can be completed with the specified budget. Lots of other things related to the project can then be decided accordingly. Try to keep the material list as accurate as possible and ensure that it contains all those details that you will need. If you don't know where to start making your material list from, you can download the material list template from this website which is free of cost.
Preview and Details of Template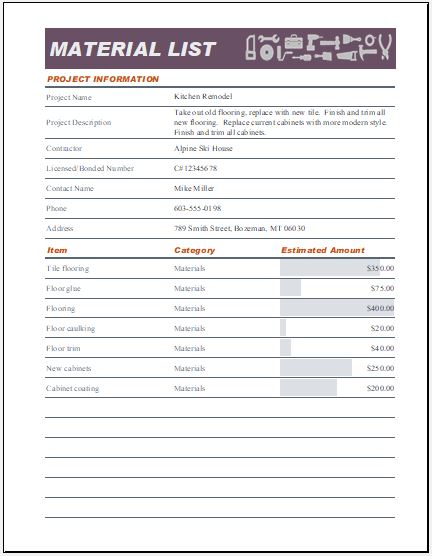 Material List Template
File: Excel (.xls) 2003+ and iPad 
Size 34 Kb | Download
License: ENERGY [Personal Use Only]