A shareholder list is a document that contains the list of all those people who have purchased the shares in the company. In other words, this list represents all those people who have a partial ownership of shares in the company. This list is important to compile the company because of which every company keeps track of all the shareholders.
When to prepare a shareholders list?
There is a specific time when any corporate provides the opportunity to the people to purchase the shares in that corporate. Once all the shares of the company have been sold, the company prepares the list of all those people who have allocated the shares of the company. The list is also prepared when a company decides to change its policies regarding the selling of shares or percentage profit.
Contents of the shareholder's list:
The main items that are included in the shareholder list are:
The name of the company
Price of shares
Names of all the shareholders
Signatures of manager of the company
Shareholders list database:
Many companies give access to their list of shareholders to everyone working in that company. For this purpose, the list is uploaded to the database, and then anyone can retrieve the information about the shareholders of the firm by accessing the database. The names of more shareholders can also be added to that list through the database.
Template for shareholder list:
The shareholder list template is available on this website that can be downloaded easily. Before you download this template, you should review it completely so that you can know if it fits your needs. Also, make sure that it is a right type of file that you need for your business.
The best thing about this template is that it is easy to customize. You can easily change the contents of the list as well as its layout if you don't like its default layout. Moreover, there are multiple shareholder list templates with different layouts. You can choose the one that is best for your business.
P
review and Details of Template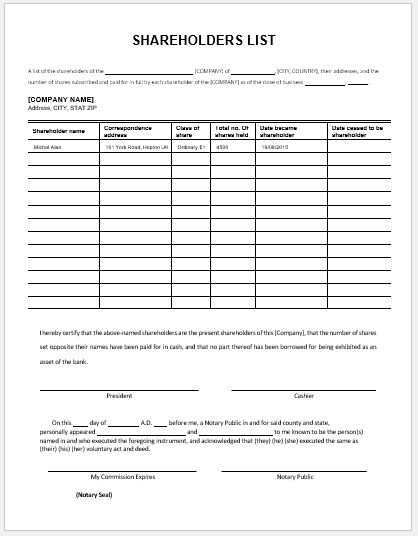 Shareholder List Template
File: Word (.doc) 2003+ and iPad 
Size 23 Kb | Download
License: ENERGY [Personal Use Only]