In any business, shareholder equity is calculated by subtracting the total liabilities of the company from its assets. This report is used very commonly from analyst to determine the financial health of the business. With the help of this report, the true economic value of the company is known. The amount that the shareholders will get when all the assets of the company are liquidated can also be determined through the shareholder equity report.
The shareholder equity reports state whether the equity is positive or negative. The report states the positive equity if a company has enough assets to cover its liabilities. Similarly, the report describes negative equity when the assets are less than the total liability.
The report is very important for all those people who want to invest in the business. If the report of shareholder equity is negative, that means that the assets of the company are too low and then nobody will like to invest in that company. In other words, an equity report saves the people's money.
The best way to calculate the shareholder equity report is to use a template. The template is the form of the worksheet can be used online on this website. To use this spreadsheet, the two major details that you are required to know are the total assets of the company and the total liabilities.
This worksheet requires you to input the value of all short-term and long-term assets. Once you have a computer all the long-term and short-term liabilities as well as assets, you will be able to calculate the equity value since it is now just a matter of subtraction.
The template for shareholder equity report has designed for professional people who want everything to be computed professionally. The complete perfection and accuracy in determining the value of equity are obtained when you use this template.
Preview and Details of Template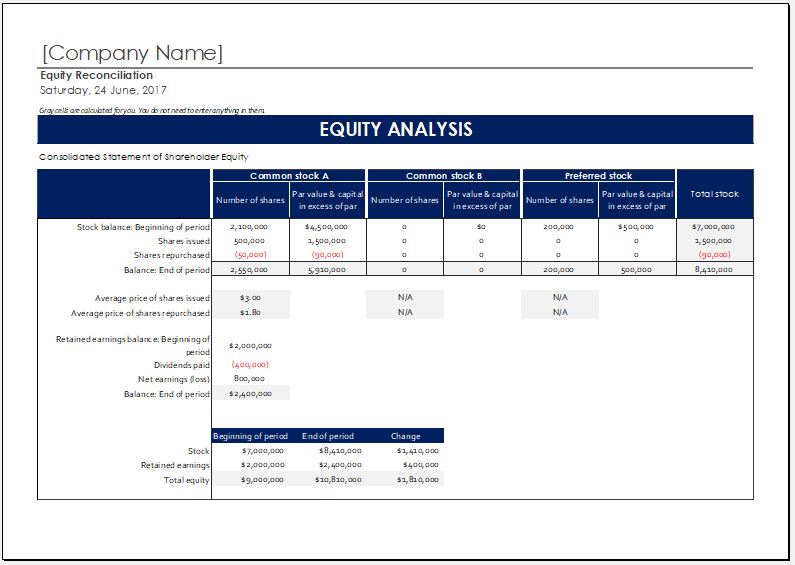 Shareholder Equity Report Worksheet Template
File: Excel (.xls) 2003+ and iPad 
Size 23 Kb | Download