The account payable ledger document is used to enlist all the purchases that have made on an account. This is a spreadsheet document that is used for the purpose of recording all the purchases. It is a useful tool to remind you of the bills that you are required to pay to the seller.
The account payable ledger helps you handle the number of vendors with whom you are dealing. This ledger keeps track of the total transaction made by you, starting and ending balance in your credit account, complete account payable balances for all the vendors.
You can use the accounts payable ledger template that is a beneficial tool for you if you want to handle all the vendors and the purchasers. The template is available on this website provided by templates.office.com/. It saves your time as well as provides you the complete accuracy and perfection in the document which cannot be achieved in any other way. The account payable ledger prepared with the help of a template gives a professional look to the document and also puts a very positive impression on the mind of the audience.
The imperative thing about the template is that it is easy to use and customize. If you want to add any detail which is specific to your business, you can easily add in it by simply adding a column to the spreadsheet.
Elements of the payable ledger spreadsheet:
The main contents of this spreadsheet are:
Date

: You must enter the date that is mentioned on the invoice

Invoice number

: each invoice in the business is assigned a unique number for identification. Entering it in the template is important.
Name of the supplier:

Name

The total amount one has to pay

. This amount is also mentioned on the invoice at the bottom
The due date by which the amount should be paid
Balance due

Payment column

: the payment column is made every time the supplier of the company is paid
Current date
Some additional columns can also be added to this spreadsheet to its customizable feature.
Preview and Details of Template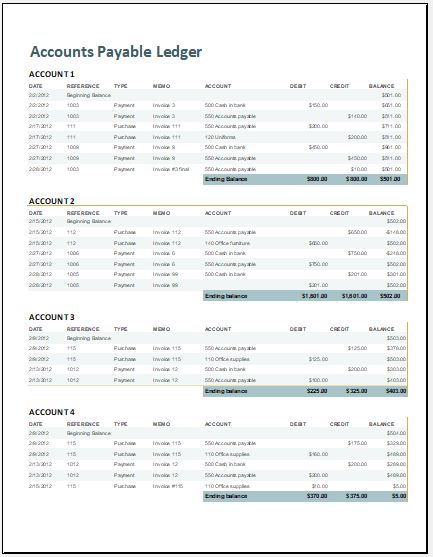 File: Excel (.xls) 2003+ and iPad
Size 45 Kb
Download
---