It is a kind of legal document or a written evidence of which all the details related to rental transactions are drafted. This is a professional way to send a billing statement to the tenant as a reminder or even as a receipt. This statement can show every detail like the date on which the rent is due or when was it paid, or any late fee changes, etc.
Use of the statement
Rent is the amount a person gets when he let another person use his property. The amount of rent is decided by both the parties along with the other details like the due date. The rental billing statement is a document used mainly by property owners and real estate agents to draft all the details of a rental transaction on a piece of paper or on the same document in details. This useful document can be used for all kinds of properties like land, building, household, apartment, workshop, and cars etc. This document works with an evidence for both the parties and can be used to solve issues related to it.
Template
The professional way to use this statement is to have a uniform billing system so that every month the same format of the billing system is followed. It should start with the name and contact details of the landlord and the name and contact details of the tenant. It should also have the address of the property for which the rent is being received for. Furthermore, the date on which this billing statement is presented should also be mentioned. The details of the rental amount should be mentioned along with the related dates. For example, any amount brought forward from the previous months, the amount due for the related month, any late fee charges, any advance to be set off and then at the end the total amount to be paid should be mentioned.
There is a remittance section that is added at the bottom of this document. This section lets the tenant know about the due dates and balances due in just a glance. Make sure that there is enough space left for both the parties to sign on.
Preview & Details of Template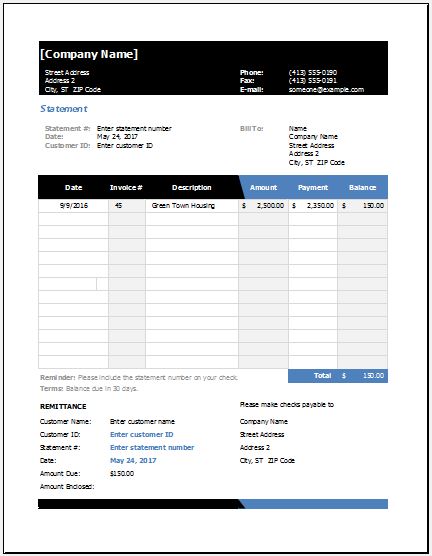 Rental Billing Statement Template
File: Excel (.xls) 2003+ and iPad
Size 43 Kb | Download
License ENERGY [Personal Use Only]
[Not for resale & distribution]