A transport bill is a type of receipt which is issued by the transport service provider. The main purpose of a transport bill is to request the people to pay the bill, who are using the transport. This bill is also known as transport invoice.
Transport bill template:
You can format the transport bill in MS Excel file as well as in MS Word. However, designing this bill in MS Excel is more advisable. MS Excel is advisable to be used because there are many pre-defined formulas that make it easier for the user to calculate the bill which is required to be paid.
Transport bill template is a powerful tool that is used to prepare a professional looking bill by the transportation company.
With the help of this invoice, the company can manage clients using transport service. Products, fee payment, invoices and lots of other things are also easily managed with the help of a transport bill template.
When you have a template in your hand, you will not be in the need to bill your customers manually as the template does it easily and automatically
Transportation services are provided to different airports, bus stations etc. When a customer is intended to go on a trip using any transport service, the transport company issues the bill to that customer.
The format or layout of the transport bill may vary from company to company depending on the needs and requirements of the company.
The format of the transport bill:
The transport bill includes the name of the transport company. The other details that are added to every transport bill are:
Date of issuing the bill
Name of the person who is being issued this bill
Description of transport service availed
Mileage details
Amount of each trip
The total amount that the customer is liable to pay
There can be several other details that can be added to the transport bill depending on the needs of the company. No matter which format you choose to structure your bill, it should always reflect professionalism and your company's way of dealing with its customers.
Preview & Details of Templates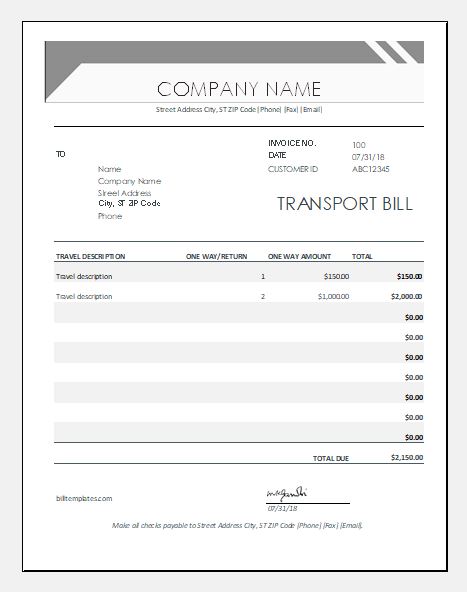 File: Excel (.xls) 2007+ and iPad
Size 52 Kb   |    Download
File: OpenOffice (.ods) Calc [Cal]
Size 34 Kb   |    Download
License: ENERGY
[Not for resale and distribution]