A cover letter is a formal letter written by a job seeker to a potential recruiter, at the time of the job application process. The letter explains the competencies, expertise, and achievements, corresponding to the job position an individual apply for. Besides highlighting the relevant skills, the letter also mentions the reasons why the individual considers him/her a suitable candidate for the respective job position. The letter serves as an introduction for a job seeker to the recruiter.
Several employers require the applicant to share a cover letter to provide a motivation behind applying for a particular job. Thus, a well-crafted cover letter helps in creating a memorable impression on the recruiter at the time of applications' screening. The letter could be written for any job position when deemed necessary or required by the recruiter.
Let us assume, that one of the job posting sites has posted a vacancy for Administrative Assistant. The job is full-time, requires a high school diploma, as a minimum qualification, along with technical and good communication skills. Now, when a job seeker believes himself/herself a suitable candidate for the job position, he/she is required to send a cover letter attached with a resume.
Before writing a cover letter, the job seeker for the aforementioned job posting should assess the following things:
Is he/she eligible in terms of required qualifications and skills?
Does he/she have any prior relevant experience?
What motivation makes him/her apply for the job?
Why does he/she consider himself/herself a suitable candidate?
Now, when the job seeker has assessed the above-mentioned factors, he/she must write a well-structured cover letter. The following guidelines can help in writing a persuasive cover letter:
Be informed about the recruiter's work – When writing a cover letter, begin by referring to the job listing or advertising site/place and acknowledge the work or the vision of recruiting organization/company
Elaborate academic qualification – Follow up the introductory part with educational qualification in the letter. It is good to address the eligibility criteria in the same order as it is mentioned in the advertised job vacancy. An overview of all the relevant degrees, certification or courses should be mentioned in the letter
Highlight key competencies and skills – As required for the advertised job, be specific, and emphasize on all relevant acquired administrative skills, such as:

Operating basic/advance computer software

Organization management and Multitasking (record keeping, filing, reporting, etc.)

Strong Communication Skills
This part of the letter may provide an overview of contributions made, complimenting the mentioned skills
Salary requirement – Mentioning the salary requirements in a cover letter is not a common practice. However, it could be made part of the letter if the potential recruiter has explicitly requested it. But, the exact figure should not be added. It is good to mention a range for the required salary, and that too with a statement depicting the salary range to be negotiable
Call to Action – In the light of qualification and expertise, the applicant should close the letter by mentioning why he/she considers herself/himself a suitable candidate and how can he/she be approached (a meeting, phone call or email)
Sample Administrative Assistant Cover Letter with Salary Requirements
Date

Dear Mr./Ms. [X]
I am writing in reference to the position of Administrative Assistant, advertised on XYZ Company's website. Your company's vision and articulated actions have resulted in the transformation of the [category] industry. Having experience of three years in management and a definite skill set, I am pleased to be applying for the advertised position. I believe that my experience in managing administrative operations make me an ideal candidate for the position.
I have a bachelor's degree in Accounting and Finance and I have also completed several certifications related to business and human resource management. Furthermore, I am a certified Microsoft professional, proficient in Excel, Word, and PowerPoint. My mastery of the subject has led me to acquire relevant expertise.
At my previous job, at KLM Company, besides performing general administrative tasks such as liaising with departmental teams, I was also responsible for overseeing and reviewing the recruitment process along with organizing capacity building training for the employees. Moreover, I assisted in the preparation and consolidation of financial reports for the projects' departments.
My demonstrated expertise is evident from the fact that my role at KLM Company, required me to draft monthly reports on travel logs, and cost-cutting on procurement, for the management, relevant to each department in place, in response to which I submitted timely and well-crafted report every month. In addition, I assisted the human resource managers in conducting bi-monthly training. It was due to my utmost dedication and professionalism that I was nominated Employee of the Quarter, for consecutive two years.
As featured in the job advertised, I am required to mention salary requirements. Considering the position's description, nature of work involved, and responsibilities I would ask for market competitive an annual salary range of $38,000 to $46,000. The stated salary is open for negotiation, knowing there are several incentives involved as mentioned in the position's description.
I believe my ability to apply knowledge, demonstrated professional expertise, willingness to work in collaboration across departments, and strong communication skills will make me a valuable addition to your team. Enclosed is my resume. I look forward to being provided with an opportunity to have a meeting or an interview, to discuss things further.
Thank you for consideration.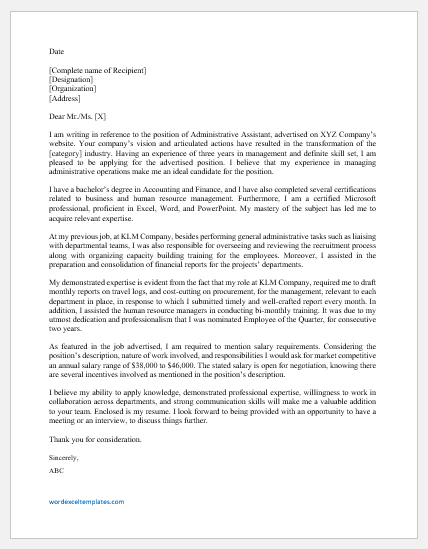 File: Word (.docx) 2007+ and iPad Size 24 Kb |
Download
---