The workplace always provides many privileges to the employees. These privileges are regarding each and every defined parameter. But, the workplace also has some set of customs, norms, procedures, and policies. All the members are equally responsible to perform the assigned tasks devotedly. It promotes a sound and productive environment. It also helps in building a good reputation as well as generating greater revenues.
When employees show the careless attitude towards their duties and responsibilities, the supervisors need to take notice of it. The careless attitude of a single employee can adversely affect the whole organization either directly or indirectly.
Employees must be careful in keeping the work environment sound being devoted to their work. They must strictly follow all the norms, policies etc. Some members are habitual of coming late at work. Some take extended lunch breaks. Some keep their tables and cabins messy. Some attend personal phone calls during work hours. All these acts badly disturb the work environment. Some fail to submit the reports. Some fail to complete the assigned tasks. Repetition of all these acts leads to warnings. The extended number of warnings may lead to eviction.
A warning letter is issued when the report is not submitted on time. In this letter, the repeated number of late submission is referenced. The oral warnings references are also mentioned. The validity period of warning is mentioned. A notice of taking strict disciplinary action is also mentioned. This letter must be considered on a serious note.
Sample Letters
#1
This letter is being issued to you as the monthly report was delayed by 5 days. You know we have a strict policy to meet the deadlines. The report is not just crucial for the accounts department, but all other related departments also depend on this report.
You should have notified us regarding the delay of at least one week before. Please note that under such situations, it is recommended to give a notice in advance and the report should be submitted as soon as possible. We will be waiting to receive the report during this week to avoid disqualification.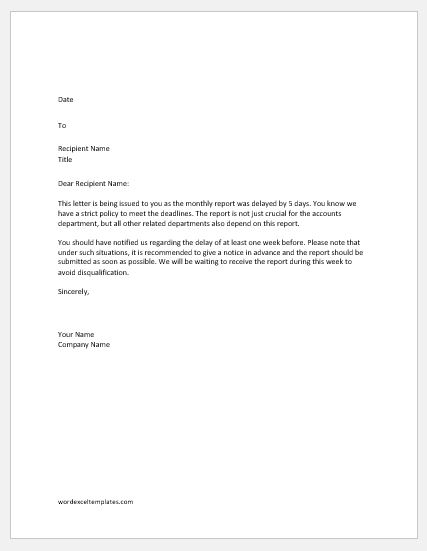 #2
This is a warning letter for missing the deadline which was three days ago. Following deadlines is very critical for the department. Once the report is submitted, other departments must update the report and add their own working. Not submitting the report means a delay for every department.
The report is reviewed before it is handed over to the senior management. Review and quality assurance is a lengthy process which can take days. Amendments can also be needed in the report. Following professional ethics, the delay in report submission should have been brought into my knowledge. Please make sure to avoid such situations in the future and report any reasons for the delay to ensure any uncertain factors can be catered moving forward.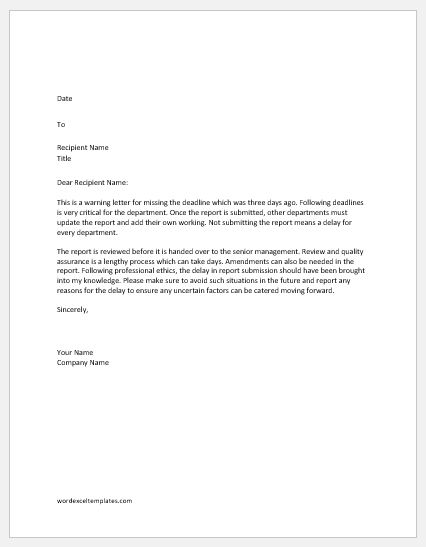 ---
Email to Boss Explaining Causes of Delay in Project
It is not uncommon to have required writing an explanation or apology letter to your boss when you are spending many hours of your day at workplace. It is equally logical at times to be late in the submission of a project for what you must give a solid and valid reason to your boss.
Writing an explanation letter is a better way to apologize and elucidate the reasons indulged in it. For writing an explanation letter some clauses should be kept in mind strictly to avoid any kind of blunder:
You should not be overemotional while making your apology through an explanation email. You should for sure keep your content unpretentious and shortest.
Lay out an unambiguous explanation of the situation. Start with a general account of the violation followed by the facts about the time and place.
Confess the reimbursements that stemmed and any suggestions or significances for the company.
Prove yourself a professional one by admitting it your fault for being late in the submission of an important project which has its impacts on the reputation of the company.
End your email on a node that mollifies the pain caused by this action & state that you are ready to compensate whatever way the company decides it.
Sample Email
This email is to explain the reason for late submission of the project I was assigned the last week. I was enthusiastic for this project as I knew its utmost importance. But suddenly, I got the news of my grandfather's impulsive death which left me in a state of shock and I instantly had to rush there to attend his funeral ceremony. All the same I understand the difficult situation I put you in due to my poor management regarding personal and professional life.
It was totally my fault and I am ready to compensate it if a way is out there for that. I promise you that it will never happen again no matter how much a difficult situation in I am. I will always keep a way out to prove myself professional and responsible. I am extremely sorry for the inconvenience caused by this act of mine, but it was never intentional.