The human resources department is not always happy and ready to reduce working hours. Some employees may need this because of some reason. They may have some health issue that is not letting them work for the prescribed hours. The employee must inform the boss about this.
What is a request for your boss to reduce the working hours?
The request to the boss to limit the working hours is the application or letter that the employee will give to the boss asking them to limit how much time they can work for. The reason for this must be a valid one and one that can convince the boss to accept this request.
This request letter is a polite and professional way for a staff member to ask for reduced working hours. If written properly, the boss may even accept this and grant the employee what they want.
Use words that will convince the boss to give you less working hours. The following points can be kept in mind when writing this letter:
Format of the letter: The letter must be written professionally. Give the date, and address of the office. The subject should be stated precisely so that the reader knows what to expect. Address the boss respectfully. End professionally with your name, job designation, and department name.
Do not make it long: The request letter should be short because your boss is not interested in reading things that do not matter. Immediately start by stating that you need reduced hours. Give the reason for this. It may be that when you joined the office you were studying but your schedule was not hectic, it may be hectic now and you are finding it tough to handle everything.
Request politely and sincerely: Request the boss sincerely that you are sorry, but you are forced to work for fewer hours. Tell me about how you contribute to the advancement of the company.
If you want to continue working and want reduced hours, inform your boss of this request properly so that it can be accepted.
Sample Letters
1-
Subject: Request letter to boss to allow work for 4 to 5 hours a day
Dear Sir,
I am Neil Johnson, working as assistant director finance in your company and I have been forced by some social crises to write you this letter. Through this letter, I want to forward my request to you to allow me 4 to 5 hours of the work in a day.
I was spending a happy life with my wife and three school-going children. Last month, the sudden death of my wife put me and my children into deep shock. After this sad incident, I arranged a maid for my children, but I have some concerns about my children's safety due to which I cannot leave them alone with maid only. I need your help in this regard. Instead of 8 hours, please allow me to work for 4 to 5 hours a day till things become normal. Since my children are in a panic, your kindness will help me take them out of it as I will spend more time with them. Please accept my request and give me a positive response. It will indeed be a great help from your side.
Yours faithfully.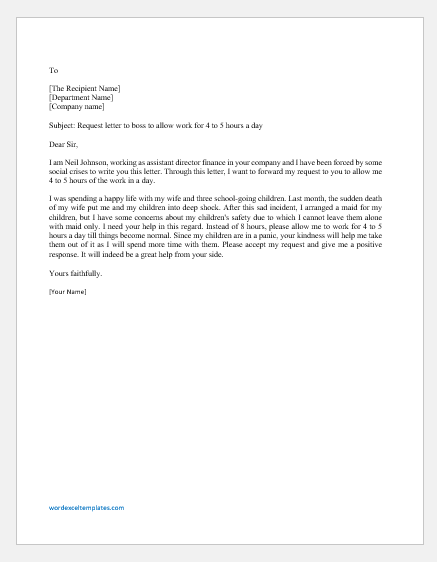 File: Word (.docx) 2007+ and iPad
Size 28 Kb
Download
---
2-
Dear Sir,
I hope you will be doing well these days. I met with a severe accident last month. Consequently, I got my bones of both hands and a couple of ribs broken. Owing to the severity of the accident, the doctor of Allied Hospital advised me to take full rest for 2 months.
I am well aware of the workload these days. Since auditors are about to visit our company for an annual audit, I have decided not to take full rest rather I would request you to reduce my working hours to 4 or 5. In this way, I would get sufficient time for my injuries to heal and at the same time, official work will not be affected as well.
Please consider my request and inform me about your decision in this regard. Thanking you in anticipation.
Yours faithfully,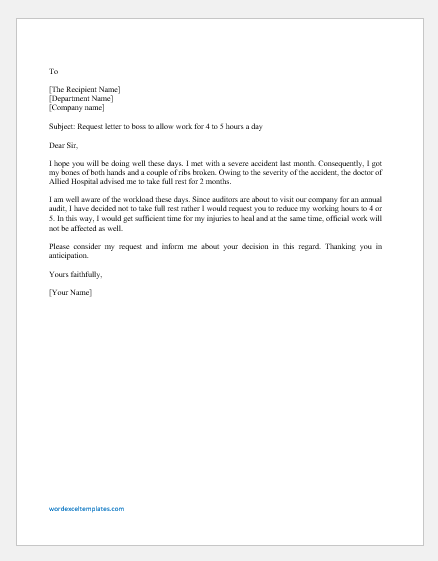 File: Word (.docx) 2007+ and iPad
Size 23 Kb
Download
---