If you have been treated unfairly at work, you can write a grievance letter to your boss telling him about the unfair treatment. One should be careful while writing this letter as most of the employers consider this letter trash.
It is important to note that employees can write this letter well and handle the situation afterward when they get a complete understanding of their employment rights. If you are not aware of your rights, you will result in writing a grievance letter in a very bad way that is likely to not influence your employer.
Why a grievance letter is written?
Employees write the grievance letter to get rid of unfair treatment they usually have to face at the workplace. The grievance letter is sometimes is written to draw the attention of the top authorities of the company towards an issue that the employee is facing. This letter is usually written to the HR department of the company. The company is expected to write another reply in reply to the grievance letter.
How to write the grievance letter for unfair treatment?
It has been told earlier that the grievance letter must be written properly so that the employer takes it seriously and take some action after reading it. To deal you with this, we are giving you step by step instructions to help you:
Tell about the grievance:
The letter should be started by telling the employer that you are writing the grievance letter because of being treated unfairly. There are different types of unfair treatments. Sometimes, there is indiscrimination that leads make someone realize that they are being treated unfairly.
Tell why you feel unfair treatment:
After reading this letter, your employer might think that you have some misunderstanding. Therefore, you need to tell in detail why and how you felt mistreatment. Tell the employer that you are aware of your employment rights and therefore, the company must fairly treat you just as anyone else working in the company is treated.
If there is a particular person in the company whose behavior is subjecting you to this unfair treatment, you must mention the name of that person in the letter. If there is someone in the company against whom you are being treated unfairly, mention the name of that person.
Tell how mistreatment has impacted you:
It is important to tell the employer that unfair treatment has caused you to suffer a lot. Bad or unfair treatment often leads to depression and other psychological problems. Tell the employer that you have been going through serious problems. Mention those problems in the letter in a brief way.
Every kind of bad and unfair treatment has compensation. Anyone who is treated badly can demand compensation. Due to this, the employee who has been treated unfairly can ask for compensation.
End the letter positively:
At the end of the letter, express your hope that the employer will take action on whatever you have explained. A probe should be conducted in this matter so that you can get justice.
This is a sample letter of explanation that is written by an employee who is disabled and has felt that he is not being treated as better as other employees. In this letter, the employer tells the employee how he has been mistreated.
Sample letter:
Date: [DATE]
RE: Observing unfair treatment in [TEXT]
Dear (name of the employer),
I am writing this letter to raise the issue of getting treated in a less favorable way. I believe that I have been subjected to a bad treatment which I never expected. I have felt that I was given less favorable treatment because of my disability. This treatment has given me so much depression and anxiety. I believe that I deserve to be treated the same way everyone else is treated.
Due to undue depression and anxiety, I am unable to work properly. My social and personal life has affected badly. The unfair treatment has affected my cognitive abilities and now I am unable to think clearly and do anything in a normal way.
I am so upset about the fact that I have been mistreated on the particular grounds of disability which is so deplorable. I have been discriminated against many times in comparison with Mr. Johnson.
Please consider this letter as a grievance letter from my side. I want to know why I have been treated unfairly. Furthermore, I also want to be compensated for the emotional and professional damage that the unfair treatment has caused.
Regards,
Your name
Company name
Position in the company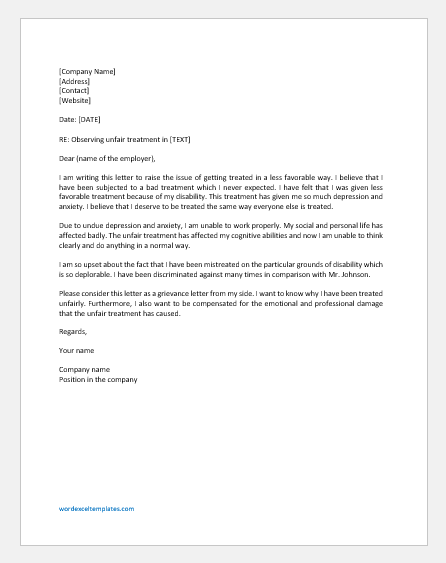 File: Word (.docx) 2007+ and iPad
Size 19 Kb
Download
---